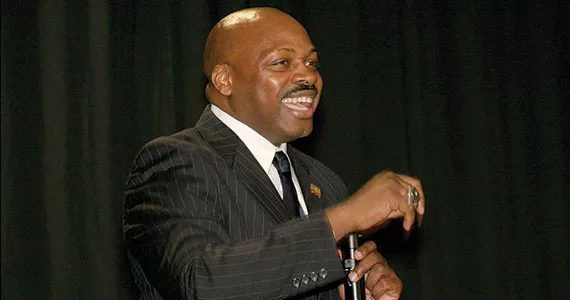 Coach Carter Saturday, February 11 and Sunday, February 12 For full schedule of events vsiit dbdli.ca
Played by Samuel L. Jackson in the 2005 film Coach Carter, high school basketball coach Ken Carter demanded his players maintain a C+ average to play on the teamand famously locked his undefeated team out of the gym for falling below the GPA. Due to his dedication, Carter inspired his entire 1999 team to go to college.
On February 11 and 12, the Delmore "Buddy" Daye Learning Institute brings Carter to town for speaking engagements with parents, African Nova Scotia youth and sport coaches for African Heritage Month.
How was your real life experience different from the movie Coach Carter?
What you saw in the movie was 98.5 percent true. We changed some of the teams we played against and some family names but that was it.
You had a tough-love approach—requiring players sign a contract guaranteeing their grades would not slip. What was your relationship with them like?
I had to put some parameters around the kids. They were used to doing whatever they wanted to do and they were taking the shortest route. But the shortest route sometimes leads to a minefield. The contract put parameters around them and when they didn't operate within those parameters the consequences were pretty harsh. Our contract made everybody accountable: Me, our coaching staff, our school, the kids and the parents.
You and your players addressed each other as "sir." Why was that important?
If nobody in the community or in the school respected our team, we were going to respect one another. That came from my upbringing and my parents. The team was an extension of my family, so I treated them like they were a part of my family. They still are today.
You got a lot of backlash for locking your team out the gym because their grades were low. Was that challenging for you?
Yes, it was challenging. I really love basketball so I didn't want to lock them out. But these kids thought they were going to play professional sports and only one in about 500,000 college athletes gets to play some type of professional sports for a living. That's one in every 500,000—look at those numbers. But yet, if one of them becomes a good enough business person they can purchase a team and play every night.
The team was an extension of my family, so I treated them like they were a part of my family. They still are today.

tweet this
You coached at Richmond High School for five years. What did you learn through the experience?
I went to work on the kids at Richmond High and the kids went to work on me. The lockout was a situation where everybody won: the school won, the basketball team won, but most of all our community won. Cruz from the movie is a physical therapist now and he's working on getting his medical degree. He went from selling drugs on the street to prescribing drugs—isn't that crazy? We gave them an opportunity that they didn't know existed. We told them: "You know you can go to college." We took the kids and visited colleges in the area. I believed in the kids and had a vision for them before they believed in themselves.