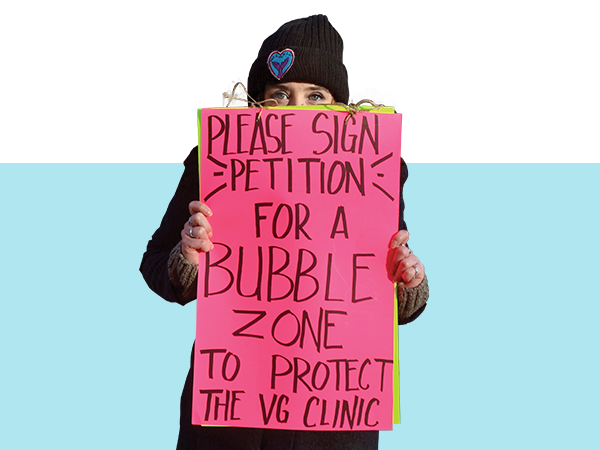 A Halifax woman will not stop fighting until people seeking abortions in Nova Scotia are protected from protesters.
Megan Boudreau, a third-year psychology student at SMU, is urging the government of Nova Scotia to implement a bubble zone law around healthcare facilities that provide abortion services. The law would block protesters from demonstrating within a certain radius of a facility. A spokesperson from the province says it is not considering a bubble zone law at this time but Boudreau says this legislation is necessary in Nova Scotia and that she will keep pushing for it.
Boudreau decided to take action after seeing anti-abortion protesters as she walked by Victoria General Hospital every day through September and October. The protesters were part of the 40 Days for Life campaign, a religious group based in Texas that claims to have shut down 104 abortion clinics across North America.
"How are we allowing this?" Boudreau says. "They are really affecting women's rights to feel safe."
Boudreau says an encounter with protesters can be traumatizing for people seeking abortions. "You should be able to go to these places without feeling shame. It's cruel. It's a human rights issue, for these women feeling unsafe going into a legal abortion."
So, Boudreau created a petition calling for a bubble zone around the clinic in Halifax, and last month collected signatures outside the Halifax Central Library. With the help of Laura Slade, a volunteer with Abortion Support Services Atlantic, she collected 75 signatures and the online version of the petition currently has more than 700 signatures.
Slade had an abortion at 19 and now volunteers to help people "navigate the stigma and the system."
"People wouldn't protest any other necessary medical procedure," says Slade, "I just think it's really unfair."
Erin Samson, a medical student, signed the petition. "It makes me uncomfortable that somebody seeking that service could already be feeling vulnerable and upset and then they see that, trying to make them feel guilty. It doesn't sit well with me," she says.
About the protests, Ruth Robert, the leader of the Halifax chapter of 40 Days for Life, says the movement is strictly non-violent, and that a bubble zone would punish them for a crime they didn't commit. "We don't harass women; we just pray outside a hospital," she says.
Boudreau argues that regardless of the fact that the protesters are non-violent, they can still be intimidating and harmful to the mental health of abortion patients and anti-abortion protesters have put clinics in danger.
In 2017, a court granted a permanent injunction against protesters outside Chaleur Regional Hospital in New Brunswick after members of the 40 Days for Life campaign blocked traffic outside the building.
According to the National Abortion Federation, an association of abortion providers that focuses on advocacy and education, 57 death threats or threats of harm were sent to abortion clinics in Canada and the United States in 2018. The National Abortion Federation also reported a 27 percent increase in protesters outside of clinics and a 78 percent increase in trespassing and obstruction of access to clinics from 2017 to 2018.
Boudreau said she respects people's rights to protest. However, she wants them to do it out of sight of people entering the clinics.
"I can't change these people's minds," Boudreau said, "But I can advocate for bubble zone laws for the safety and wellbeing of people going in and out of these procedures."
Bubble zone laws are in effect in other provinces including Alberta, British Columbia, Newfoundland and Labrador, Ontario and Quebec.
In British Columbia, the Access to Abortion Services Act was passed in 1995 after an abortion provider was shot. The law bans protesting within 50 metres of a facility, 10 metres of a doctor's office or 160 metres of an abortion provider's home.
Anyone in Nova Scotia can self-refer or access abortion services information by calling 1-833-352-0719.