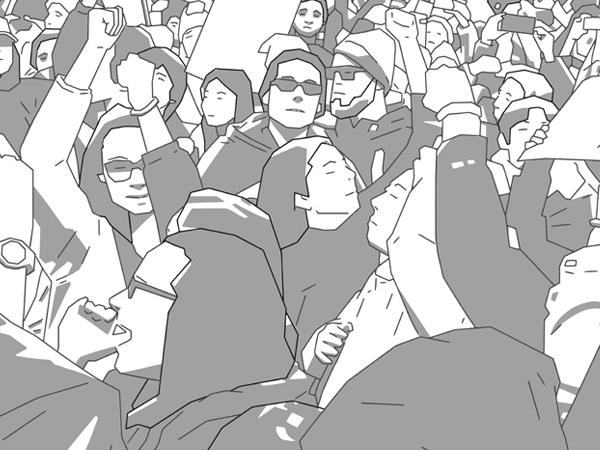 I was asked to reflect on the lack of people of colour running in the four federal ridings in Halifax Regional Municipality.
This statistic is so unsurprising—I didn't think it was worth writing about—but I do think it's an important statistic to know, so here it is: There are no people of colour running for any of the four major federal parties in any of the four HRM ridings.
Living here, as a person of colour, I really hadn't noticed. Not because I turn a blind eye to these things, or because I don't care to see representation, but because such a demographic makeup is so quintessentially status quo.
To confirm my suspicions that this statistic is as expected, I had a conversation with social worker and sociologist Robert Wright. He, too, finds the lack of racialized candidates unsurprising.
"I guess what I would say is that I don't think that any party has particularly engaged, in a significant way, with Black communities," says Wright.
In the history of Halifax's four federal ridings; Halifax, Halifax West, Dartmouth-Cole Harbour and Sackville-Preston-Chezzetcook, there have only been a smattering of racialized candidates.
In the last decade in HRM there was only Irvine Carvery, a prominent high school basketball coach and former chair of the Halifax Regional School Board from Africville, who represented the Conservative Party in Halifax in 2015. Before that, Conservative candidate Rakesh Khosla ran in Halifax West during the 2006 and 2008 races.
A little earlier on, in 1997, Gordon Earle became the province's first racialized MP, securing Halifax-West for the NDP. Earle lost his seat in the 2000 federal election, and made a few unsuccessful bids to reclaim the seat throughout the early 2000s.
To this day, Gordon Earle remains the only non-white MP ever elected in Nova Scotia.
"There isn't that sustained relationship in the Black community and there isn't that sustained engagement in substantive issues that affect not just the Black community, but I think people of colour," says Wright.
"So then when it comes time to find people to run in these elections, they reach out to Black folk...and people in the community are like, 'I don't know you, you don't know me, why would I run for you.'"
This year, according to data from the National Observer, only the NDP's cast of candidates surpasses the proportion of diverse citizens in Canada. Under Jagmeet Singh, Canada's first racialized prime ministerial candidate, 32 percent of the party candidates are visible minorities, as compared to 25 percent of the country's population.
The Liberal Party comes in next at 20 percent, followed by the Conservatives with 18 percent and the Greens come in last with just 12 percent of their candidates being visible minorities. Numbers aside, this election season has seen its fair share of conversations about race. As early as the first week of the campaign, the infamous blackface scandal surfaced, tossing Canadian media into a flurry of think-pieces weighing the history of blackface, the impact of a scandal like this on Trudeau's re-election campaign and the sincerity of his many apologies.
Another firestorm stirred shortly after, as Toronto Liberal MP Judy Sgro apologized for suggesting, preposterously, that Trudeau's blackface missteps would garner him "much more love" from Black constituents.
According to research from McGill University's Digital Democracy Project, online discussions of blackface dropped off almost completely three days after the scandal broke. It was a flash in the pan—unsurprising to some, shocking to many, but ultimately generating little lasting alarm.
Wright puts it this way: "If the discourse around race is 'who's the biggest racist, Trudeau or Scheer,' and if Jagmeet Singh is the arbiter of that based on the sincereness of the apologies that he's receiving, then race is a pretty superficial consideration."
People of colour were granted a brief spotlight at the forefront of an electoral media conversation, but that conversation in itself was superficial.
"The blackface events are fantastic photo ops," Wright says. "But it takes a little more thinking to ask questions like, 'OK where's our national housing policy?'"
In a scan of each party's platforms, only the NDP mention people of colour directly in their policy objectives. They are committed to tackling the growing threat of hate crimes in Canada, and working against "all forms of hate, racism, including anti-Black racism, anti-Semitism, Islamophobia, gender-based violence, homophobia and transphobia."
The question remains: Does it make any difference for people of colour to see their otherness reflected back to them in their candidates?
"I think that one of the things people of colour take notice of is that every time we advance a step, the goalpost moves back too," says Wright. "So just when people of colour start getting elected, power gets concentrated in the cabinet. Just when people of colour end up in the cabinet, power is concentrated around the prime minister's office." This year, Jody Wilson-Raybould showed Canadians the fallout of standing up to the old boys' club of Canadian politics. "It's like 'we got you for the photo op, but we need you to do business as usual,'" says Wright.
Merely having a seat at the table of power does not invoke meaningful representation.
As so-called champions of multiculturalism, the Liberals disproportionately police racialized and Indigenous communities, fumble child welfare policies that disproportionately strip Black and Indigenous children from their families and approve energy projects that overlook Indigenous sovereignty.
"If I were a person of colour thinking to run for federal politics I'd say my voice will never get heard until we get a more deliberative democratic system, so that policy decisions are actually being made through political discussion and not crafted in back rooms," Wright says.
So what issues do, and should, matter to people of colour?
The only way to answer this question is to sincerely pose it to marginalized communities, and be prepared to listen.
Wright's concerns include fundamental issues of democracy, the old boys' club systems which keep even those marginalized voices in the highest offices silenced. He pays close attention to issues of immigration, citizenship and issues faced by Indigenous peoples.
"If the first peoples of this country cannot find health and wellness in this country, don't think for a minute that the rest of us who are marked as other by virtue of race or national origin, are going to find a place here," Wright says.
In order to be truly represented in government, people of colour must be allowed meaningful involvement in political conversations.
Government must engage in sustained relationships with marginalized communities, allowing them to articulate their concerns and needs with their own voices.
In order to be truly represented in government, systemic racism must be critically examined and dismantled.
"Race has to do with bringing different mindsets and different perspectives into the political discourse," says Wright.
"And if you're not ready for that, then don't ask us to serve. Because otherwise it is purely tokenism."