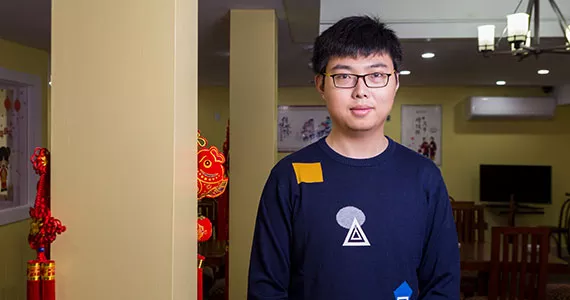 Leon Qiu wants to share dumplings, one of the most popular traditional Chinese dishes, with people from different cultures.
"I found that in Halifax there is no restaurant that just focuses on making dumplings, which is a traditional Chinese food that all Chinese people know," says Qiu, who opened Qiu Brothers Dumplings in September, after graduating from Cape Breton University with a major in hospitality. "When I was studying I was living in a house with my friends and I used to cook for them and I liked it," he says. "So I thought that what I studied could really help me make something out of cooking."
As a hospitality graduate, he hopes to make his business as appealing and welcoming as he can. In China, Qiu says that dumplings help families come together by having them become part of the cooking process: "Some help in making dumpling wrappers, dough or filling, and during that time they have a chat, so it can be really fun."
Even though customers don't experience the dumplings in the same way Chinese families do, Qiu makes sure to talk with his customers to make the experience feel less foreign. "I have conversations about our food with customers and I try to explain that there are many different ways to cook Chinese food," he says. "And that's not something a lot of people are aware of."
"This job doesn't just serve people food," says Annika Chen, who works as a server at the restaurant. "We are also introducing Chinese culture, which I am very proud of.
"People come in not knowing what to expect," she says, "so we help them make a choice."
Some of Qiu Brothers' most popular dishes are spring rolls, steamed buns and chicken, beef or pork fried dumplings. Qiu is also looking to introduce pork stomach, which he thinks "can sound weird to customers" but still feels it's important to share a traditional Chinese dish. He wants people to get over the "weird" part and understand Chinese culture and food.
 Qiu is also focusing on his new delivery option. "Because of the winter season, more and more people would like to stay at home," he says. "This is why I am eager to let more people know about our delivery service."  He's also eager to share his dumplings with people on the Chinese New Year, when dumplings are considered the main dish for celebration. To ring in the holiday, Qiu Brothers will be offering 10 percent off dumpling dishes on January 26 to 28.