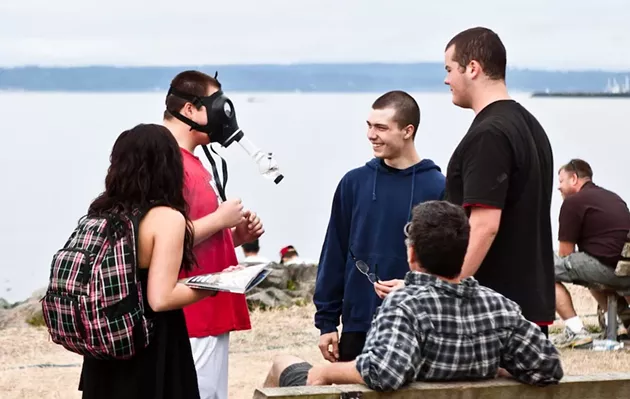 Last Tuesday the city passed a set of bylaw amendments that banned all smoking—of "tobacco, cannabis or another substance that is intended to be smoked or inhaled"—on municipal property.
Smoking cigarettes and joints on the street, sidewalk or near a park will be punishable by $25 to $2,000 in fines. The municipal bylaws restrict outdoor weed growing as well as smoking, despite the coming federal law allowing adults to grow up to four plants.
HRM is hiring more bylaw officers to respond to complaints that may arise from the new restrictions. These officers won't be actively patrolling streets, but will arrive if someone calls in a complaint.
Many on social media questioned the logic of banning a legal (as of October 14) substance from public spaces. A Facebook post by
Metro Star Halifax
on the story saw more than 100 comments about the new rules.
Is #weed legal or not? A simple question. What the @liberal_party has delivered is a parody of legal weed. #HRM #Halifax https://t.co/6oJhwP4zkk

— practice making a fist (@katieinhalifax) July 16, 2018
Canada: Weed is now legal!

Halifax: pic.twitter.com/34dYxjaUAt

— Nick Lee (@Nicklee_99) July 20, 2018
Others are happy the city is responding to the nuisance cannabis smoke can cause, especially to people with asthma or allergies.
I'm some glad weed is going to be legal so that anything to do with it becomes illegal. I'm super excited about the collateral damage.

A month's wages (on average for Halifax) for smoking in public? Fuck I'll toss some cash into that charter challenge.

— Evan (@ZnVja3R3aXR0ZXI) July 18, 2018
Medical cannabis patients with licenses will be exempt from restrictions on growing, but can still face fines if they smoke outside.
Myrna Gillis, CEO of medical marijuana producer Aqualitas,
told Star Metro Halifax
that the new bylaws continue stigma against cannabis, and fail to consider medical consumers. But some people say they aren't concerned about the new rules.
The above comment triggered reactions from supporters of city council's efforts.
To which the the original commenter replied, "no one will tell me where I can medicate."
Some aren't fazed by the change because they don't expect the rules to be properly enforced, but others are worried the bylaws on public use will interfere with the right to grow and smoke on private property, especially concerning renters.
Online reactions to the change fell somewhere between casual disinterest and passionate outrage on both sides, but one Twitter user posted a question that asks what cannabis supporters have been wondering since legalization was first announced: Will it really be legal?
Is #weed legal or not? A simple question. What the @liberal_party has delivered is a parody of legal weed. #HRM #Halifax https://t.co/6oJhwP4zkk

— practice making a fist (@katieinhalifax) July 16, 2018