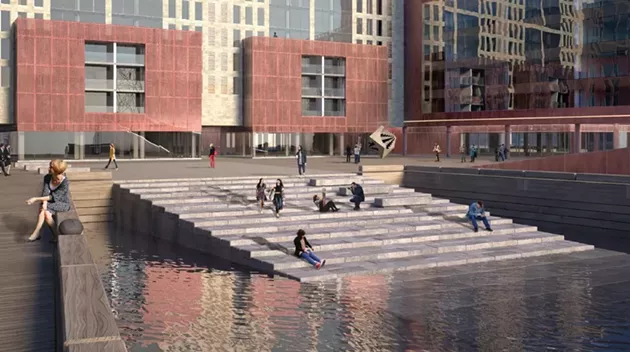 While it will be built and owned by the Armour group, it's the province (through the Waterfront Development Corporation) that will have to look after all of the wacky playground elements planned for the Queen's Marque.
That's because the five-acre piece of property which will house the $200-million downtown development is public land. Armour will get to build on it thanks to a 99-year lease with the WDC.
"They're not allowed under their charter to sell land anymore," says Armour CEO Scott McCrea. "They want to hold it in the public interest forever, so it's never lost to the public."
Waterfront Development marketing and communications manager Kelly Rose wouldn't release many details about the unsigned Queen's Marque lease agreement with Armour, but does confirm over email that it will include reduced rent during construction and future payments that are "indexed to market rent/independent appraisal as well as profitability."
It's a similar arrangement to the 99-year-lease Southwest Properties has for the Cunard Block down the road. According to reporter Remo Zaccagna, that contract includes $5.6 million in rent for the first 10 years of the agreement, and all for a (delayed?) development with a footprint three times smaller than Queen's Marque.
"Approved in principle" since 2010—when it was known as Queen's Landing—the Queen's Marque will have nearly half a million square feet of commercial, residential, retail and hotel space for Armour to lease when it's complete (tentatively scheduled for 2019).
"They lease the land to us; we build the buildings on it; we lease the tenants," explains McCrea. "The Waterfront, though, gets to control all the public space."
That means the WDC—and by extension, the province—will be responsible for a set of granite stairs descending into the harbour that's meant to evoke those morons standing on the rocks of Peggy's Cove.
"I'll avoid that one," McCrea says, when asked about safety concerns for the stairway. "That's not the final design, and we are going to worry about people. As will (the WDC), because ultimately they'll be the ones who have to insure it to make sure it's safe…We don't want slippery granite stairs, let's put it that way."
Rose also offers reassurance that the stairway design is only preliminary.
"We want to balance safety with public access to the water's edge," she writes. "The final design will have risk mitigation measures built in."
According to McCrea, two-thirds of Queen's Marque will be set aside for public space. Most of that will be contained in the public square between the two "pier" buildings on Prince and George streets. Waterfront Development will also be responsible for the public "space" on top of the "Rise Again" building—a rooftop ramp to nowhere that would make Wave Dad's head explode.
One element the WDC won't have to look after are the two lower terraces overlooking the water on the pier buildings. McCrea told HRM's Design Review Committee that those patios are kind of public, "in the sense that they'll belong to restaurants or other commercial enterprises."