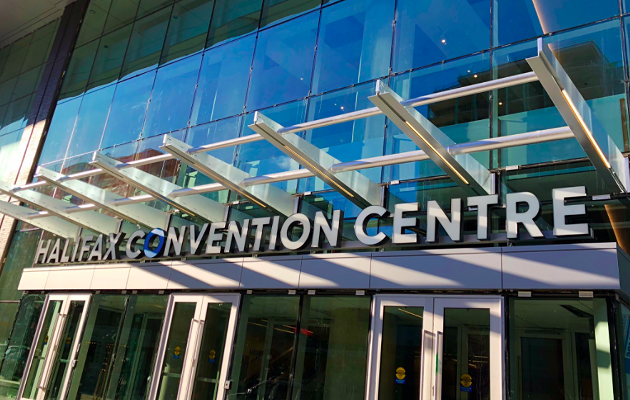 It's standard practice elsewhere in the world, but government officials say it won't be happening in Halifax.
The Halifax Convention Centre has no plans to offer financial incentives to attract business, promises Events East spokesperson Erin Esiyok-Prime.
At least, not any more than has already been spent.
The Crown corporation paid out just over $1 million appeasing conventioneers last year. Twenty-two national and international events in 2017 were impacted by the convention centre's delayed opening.
Events East spent $870,000 mitigating that impact with discounted room rentals and services at the World Trade and Convention Centre, along with $120,000 for repairs and upgrades to align with client expectations and $37,000 on travel costs and meetings.
"Beyond the delay incentives noted above, Events East currently has no plans to offer financial incentives to attract business to the Halifax Convention Centre," writes Esiyok-Prime in an email to The Coast.
But market expert Heywood Sanders doesn't expect that policy will last very long.
"The reality is in Canada as well as the US, incentives including free centre rent and other things have become the norm," says the American professor and author of
Convention Center Follies
. "It is a market reality."
Sanders points to San Francisco, which discounts $6 million a year attracting meetings to its convention centre. Likewise, the city of Los Angeles offers free first-year rent and signing bonuses for multi-year bookings.
Those incentives are even more common in a convention space's first year of operations so stakeholders can "kick the tires."
"That's how the deal works these days," Sanders says. "You want to get their convention, they say give us the centre free and give us money too."
The money doesn't have to come from operators either. Ontario, like many jurisdictions, has provincial Convention Development Funds to discount rents.
Provincial spokesperson Kelly Bennett says Nova Scotia's government hasn't set aside any sort of similar CDF for Events East. Besides the money paid out last year, "we are not aware of any other incentives planned or being offered for booking events in the new Convention Centre," says Bennett.
But the Crown corp does need some help marketing its new facility. A request for tenders issued this week is asking for marketing and communications services to assist in selling the Halifax Convention Centre on a global stage.
The outside hire will support in-house marketing efforts geared towards a "highly targeted" group of clients through advertising campaigns, social media strategies and creative development. Annually that'll work out to anywhere between $75,000 and $250,000 worth of work, according to estimates in the RFP.
One place potential convention planners can save money with Events East, though, is at the banquet table. Esiyok-Prime says rental costs for booking the HCC are negotiated on a sliding scale based on food and beverage revenue.
"Our pricing strategy factors in the competitive environment, profitability and projected economic and community impact of the event," she says.
No additional bait is needed to hook the whales, says Events East. The Halifax Convention Centre is at capacity in its first year of operations, with 120 events booked and an expected 80,000 visitors.
Don't pop the cork just yet, though. Sanders says the cold reality of the convention game is you have to pay to play. Charm alone won't bring events to your shores.
"You may think you have the most lovely city on the face of the Earth, but so do lots of other people in lots of other cities," he says. "Is Halifax and Nova Scotia such a desirable destination that this is all irrelevant? My guess is no."