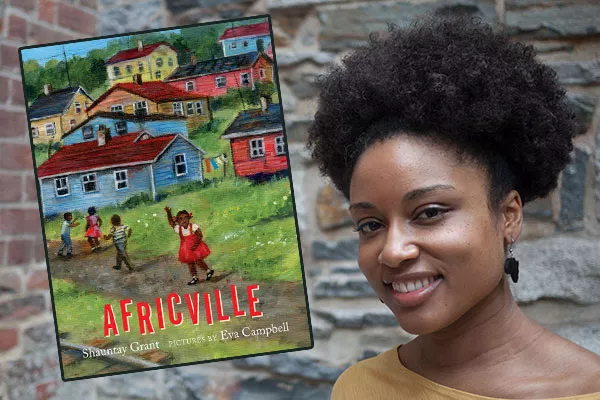 Africville launch
Thursday, September 13, 11am
Africville Museum, 5795 Africville Road

Word on the Street reading
Saturday, September 15, 11am
Halifax Central Library, 5440 Spring Garden Road, Lindsay Room (second floor)
Home takes on different meanings for everyone, but for Shauntay Grant, it comes in the form of her latest children's book, Africville. The book takes a poetically nostalgic look at the Black Nova Scotian community, and will launch during the Prismatic Arts Festival. Grant's reading takes place at the Africville Museum—a true homecoming.
"It's been a real gift being able to take a story like Africville's and translate it into a work for toddlers and young children," says Grant about her 32-page picture book. Beautiful illustrations by artist Eva Campbell accompany the author's wistful and imaginative words that take readers on a journey through the vanished neighbourhood.
As well as the illustrated story, at the end of the book is a page of information about Africville to bring older readers up to speed on this sad chapter of Halifax history. Africville residents paid city taxes, but lived without running water, paved roads and other basic necessities. Making matters worse, the city put a slaughterhouse, a hospital for infectious disease and a garbage dump nearby. In the 1960s, the city demolished this vibrant Black community that had existed for over 150 years, scattering many residents into public housing, yet Africville was never forgotten.
Published by Groundwood Books—the children's publishing partner of House of Anansi—the story of Africville follows a young girl as she visits the former site, which was named a National Historic Site in 2002. While there, stories she's heard from family members begin to ruminate. Images of brightly coloured homes, ponds, vast fields and huge bonfires fill her head with the beauty of the tight-knit community. Following her daydream, she visits the present-day park and celebrates at the annual Africville Reunion Festival with friends and family.
Although the story is deeply connected to the African Nova Scotian community, Grant says it is representative of a universal concept she believes everyone can relate to: "In writing Africville I wanted to invoke that feeling of home for readers. No matter where they're from, I wanted anyone who picks up the book to feel a sense of home while learning about the community in the process."
Having published various children's books since 2008 (most notably Up Home), Grant says the process of creating her latest release has been nothing short of amazing.
"The poem that is the basis for this book is truly a gift," says Grant about the inspiration that she received during many writing trips to the former site. "Africville today is very different from the Africville described in old city images," she says. "But drawing on resources, which for me was writing on the land and talking to former residents as consultants for the project, made it a better book."
Her efforts have paid off in a beautifully composed work of art representative of a long-lost community once home to so many. After this week's launch, Grant has a busy month ahead of her that includes a reading of her book at Word on the Street (September 15), as well as a series of publicity events in Toronto including school visits and community events.
As for what she hopes readers both young and old, near and far, take away from her book, Grant wants them receive new knowledge while feeling a sense of familiarity. "I'm open and welcome to whatever people draw from the story, but I think that feeling of home was central in crafting the story," she says. "So if readers can walk away with that feeling and learn something about Africville, then I'd be happy about that."