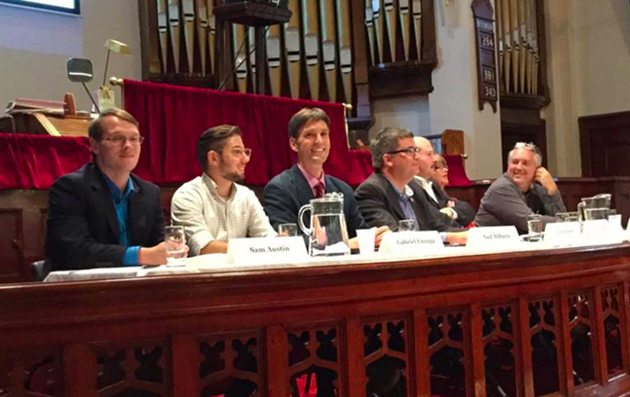 Residents of Dartmouth Centre got a chance to put faces to campaign buttons when seven of the eight candidates running in next month's municipal election took part in a candidates forum Sunday night at Grace United Church on King Street.
Tim Rissesco, Kate Watson, Sam Austin, Gabriel Enxuga, Ned Milburn, Warren Wesson and Derek Vallis took part in the event. District 5's eighth candidate, Adam Bowes, bowed out to spend the evening canvassing for new voters.

Organized in partnership with the Face of Poverty Consultation—an interfaith coalition driven to eliminate poverty in HRM—the forum asked four preselected questions about issues of affordable housing, food security, public transportation and combating poverty for those with disabilities.

Everyone was on the same page when it came to supporting more affordable housing, investigating rent control and considering landlord licensing, though both Wesson and Vallis were not fans of more public housing projects. The table of candidates also largely agreed upon expanding food security success stories like community gardens and farmers' markets.
Enxuga was alone in calling for free transit in HRM, saying it was a service for the public good. The other candidates supported expanding on and improving the municipality's recent low-income bus pass program, but believed a subsidized transit service for all would displace too much of the cost onto the taxpayer's plate.
Vallis pointedly said civic dollars should only be spent on roads after being asked about funding arts and culture. That view wasn't shared by his opponents, who spent a great deal of time and enthusiasm avowing the value of municipally supported art programs and plans on reviving Dartmouth's lost heritage museum.
Chatter about what to do with the $20-million windfall from the federal government in back taxes for Citadel Hill ranged from the lavish (an aquarium, via Rissesco) to the mundane (pay off our debts/rainy day fund, from both Wesson and Watson).
The one topic everyone running seems to agree on wasn't about Dartmouth at all. The candidates said HRM should buy the Blue Mountain-Birch Cove wilderness lands at market value to preserve for future generations. Only Vallis and Wesson hinted at the possibility of flexing HRM's legal muscle to expropriate the lands, but still admitted an amicable purchase between private landowners and HRM is probably a better idea.

Election day is October 15, but advance polling starts next week. Click here to find out more info on how, where and when you can vote.