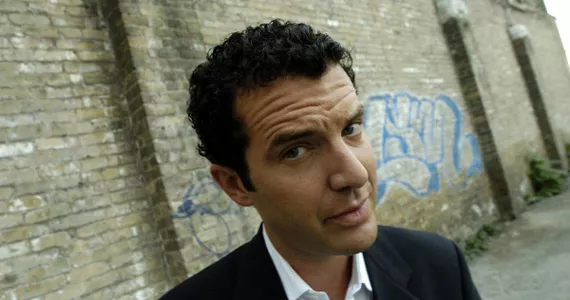 Brian Power is a sound mixer and editor. He runs his post-production sound facility The Hideout Studios in the Roy Building, the headquarters of his company Cottage Lunch Consulting. It's a cozy, high-tech service provider, offering post-production sound editing and ADR (also known as "looping") to local and from-away TV and movie productions.
The last few years have brought a lot of change to post-production work in Halifax, and for Power in particular. He was a minority stakeholder in Power Post, the biggest post-production facility east of Montreal, a company run by his brother, Rob. They operated it for six years. Prior to that it was Salter Street Digital, an offshoot of Salter Street Films. The Power brothers purchased the facility when it was sold by Alliance Atlantis---which owned Salter at the time---and they were employees. But Power Post closed last year.
"Things were great," says Power of his former company's heyday. Sound editing at Power Post included every episode of Trailer Park Boys and This Hour Has 22 Minutes, as well as work on animated shows such as Lunar Jim and Animal Mechanicals, and video editing for the Trudeau miniseries. "Anything of note that happened locally came through our doors, whether audio or video," he says. "It was a very busy place."
They also provided a lot of free studio time to local student filmmaking opportunities, AFCOOP's Film Five and the Bridge Awards, figuring the directors of tomorrow would consider Power Post for their future work. "In some years we offered almost a million [dollars] in services that we didn't recoup a dime, and we still had to pay [staff] salaries."
But things started to change in 2008. More productions shooting in Halifax did post-production in Toronto, which chipped away at Power Post's revenue. The model changed from producers using an outside provider for post-production work to doing it in-house when the cost to do it dropped dramatically. "An Avid," the industry equipment standard for digital editing, "used to cost $50,000, now it costs $4,000," says Power. "Same with ProTools, that kind of thing." As a result, the industry has seen studios and equipment suppliers shut down. Precision Camera out of Toronto---in business for decades---went into receivership recently. CEV on Barrington Street closed its shop last week, though will continue online and as a home-run business.
When Power Post folded, Rob Power went to work for CBC Halifax, where he's now manager of production services. Brian left town to work at the Olympics in Vancouver and the Youth Olympics in Singapore for six months, and came back with a new plan. "For me, the big picture was, let's work for my friends. And if the phone rings, have a good hard look at who I'm going to do business with. A little less work to allow you to have a happier life."
Former Power Post employee Doug Woods now can afford to run his own boutique, 902 Post, a high-end video post-production shop, also in the Roy. "The overhead is minimal, though it's a lot more work, I gotta admit," says Woods of owning his own business. He bought the online system equipment from Power Post, and retained many of its clients, including Halifax Film. "My clients are independents, and they're doing well. There's a bit of an upswing in the industry at the moment."
Right now Power is working on Mike Clattenburg's movie, The Guys Who Move Furniture, as well as Roller Town, and will do Mike Volpe's CBC sitcom starring comic Gerry Dee, shooting in town this summer. His slate of work will take him into 2012. But he still is hyper-aware of the cycles in the business, and suggests there are things the local governmental agencies could do to help get the word out to potential from-away clients, the ones that no longer consider doing post locally.
"Post-production could be represented by NS Film, not unlike the way locations are represented," says Power, indicating the provincial film liaison's webpage isn't very informative. "This segment is a one-liner. It says we have world class post facilities, but there's no brand recognition. It's not a difficult thing to do."