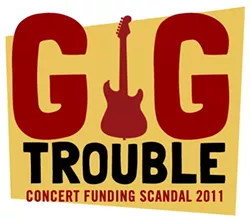 Harold MacKay is right: He doesn't owe the city of Halifax one cent.
But city administrators are demanding $359,550 from his wife's company, MacKay Entertainment, before agreeing to provide city services to the July 14 Metallica show on Citadel Hill. The city oversees and regulates police, fire, licensing and other aspects of the concert; without city cooperation the concert will be cancelled.
From 2008 to 2010, Halifax mayor Peter Kelly and former top bureaucrat Wayne Anstey agreed, in writing, to guarantee loans totalling $5.6 million to MacKay's previous company, Power Promotional Events. The loans were used as working capital for a series of concerts on the Halifax Common; the money ostensibly came from advanced ticket sales to those shows, but a review by Halifax auditor general Larry Munroe shows that much of the money was loaned before tickets even went on sale for the concerts. The money came from a bank account owned by the city, but consisted mostly of money claimed by Trade Centre Limited, the provincial crown corporation that manages the Metro Centre on the city's behalf.
Last summer, on July 21, 2010, Kelly and Anstey agreed to a contract backing two last loans to MacKay, for $200,000 each---one for the Black Eyed Peas show, one for the Alan Jackson show. Unlike previous loans, MacKay was to only start repaying these two loans when ticket sales reached certain levels: 9,000 for Black Eyed Peas and 10,000 for Alan Jackson. If those levels weren't reached, "the grant shall be forgiven," reads the contract. Just 8,362 tickets were sold for Black Eyed Peas, and 10,009 for Alan Jackson; MacKay paid back just $450 for the Jackson show, and $40,000 for rental of the Common, leaving $359,550 unpaid. (Arguably, the Common rental fee shouldn't be applied to the loans---I've yet to see any justification for it--- but that issue has never been investigated.)
The copy of the contract made public does not have any stamp from the city's legal department, suggesting this is one of the contracts flagged as problematic by Munroe. It's clear that Peter Kelly knew these contracts wouldn't pass legal muster, and he wasn't depositing them with the city's clerk, as is required. And it's also clear that neither Kelly nor Anstey had the authority to make the loans; expenditures of this sort are required by the city charter to be vetted by city financial staff and city council, and these loans were not.
But I don't see how MacKay can be held responsible for the impropriety. Say what you will about MacKay---he has a knack for not making money on even mega rock stars like Paul McCartney---but he covers all his bases as a businessman. Like it or not, limited liability corporations are an established vehicle for isolating risk behind a fire wall; there's no conceivable argument for holding MacKay's wife's LLC, MacKay Entertainment, responsible for debts owed by Harold MacKay's LLC, Power Promotional Events. And as far as I can see, Power Promotional Events doesn't owe the city any money in any event---MacKay met the terms of the contract.
The city could, however, go after Trade Centre Limited for the money. TCL is culpable on a number of fronts: The $400,000 was loaned from advanced ticket sales from which TCL, not the city, would profit; the money was TCL's to lend, not the city's. As manager of the Metro Centre bank account, TCL had a fiduciary responsibility for the account, and to vet loans made from it. And, most importantly,TCL president Scott Ferguson had been explicitly notified by TCL's auditor that loans from advanced ticket sales brought irresponsible risk, but Ferguson OKed such advances anyway, with the understanding that the city was backing them; having fiduciary responsibility for the account, he made what he knew was improper payments.
So why is the city going after MacKay, who is legally blameless, instead of Trade Centre Limited, which is up to its elbows in legal culpability? Answer that question, and you understand much of what is wrong with Nova Scotia governance.