Since Pop Montreal isn't just a series of concerts but an all-encompassing experience of art events, movies, sound installation workshops, cafe lineups and general hipster overload, I went to check out the Puces Pop craft/ art/ small press fair and some art installations with my sister. I managed to run into everyone who ever played in a band in Halifax in the space of ten minutes and two blocks, as well as a pile of locals and NSCAD grads selling their wares at the fair.
We went to check out The Happiness Project, an installation filling the apartment of Land of Talk's Liz Powell, with work by several artists based on Charles Spearin's album of the same name. Seeing a whole apartment just taken over by installations- while the residents continued residing in a single blocked-off room- was pretty cool. There were piles of cardboard houses, a white room full of white furniture and a video projection of a white figure brooding on the bed, and warm cookies in the kitchen. The artists included NSCAD alumni Marianne Collins, David Collier and Nicole Legault.
Marianne Collins' and David Collier's installation
In the evening I started out across the street from the installation at the Ukrainian Federation to see Black Feelings and Faust. I've said this before, but I fucking love seeing Black Feelings. This was my fourth show since a friend took me to see them when I was in Montreal in February, and they didn't disappoint; they had some crazy cosmic-type projections at this show, and I just like how they can pull off this dark-mystic-psychedelic sound without being flaky about it. Their LP comes out on the 15th of the month, but I managed to talk them into selling me the vinyl early, because by then I'll be back on the east coast eating lobster and listening to Joel Plaskett like we do out there.
Black Feelings at the Ukrainian Federation
After that came German experimental/ krautrock/ art rock legends Faust. This was the first time I'd seen a power grinder used onstage. Switching effortlessly between French, English, and German, this was their first Canadian show in nearly four on-and-off decades of band history. Their set would go from quiet to loud and back again, encompassing everything from mystic spoken word stories to scuzzy electric noise to the drummer pulling out that grinder and using it on a cymbal, sending up a shower of sparks.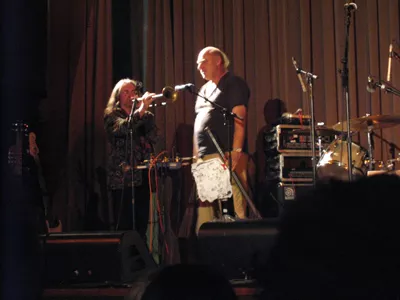 Following the show, I got handed a free falafel on my way out, and went to Sala Rossa where I saw New York band Golden Triangle, who were this hyperactive entity that might be what you got if you put a few members of Elastica in a noise band, or certain less high-pitched moments of Le Tigre, or maybe just if DD/MM/YYYY had female vocalists and more tambourine. They seemed to have a heavily British-influenced sound to me, so I was kind of surprised to find out they're from New York. They rocked pretty hard, but sounded more intense when their two vocalists took a break briefly. After their set, I went to quickly check out some punk bands on St-Denis, then caught about three songs of Dog Day's set on the way back to Sala Rossa to see Thee Oh Sees.
The venue was packed when I got there, and more people just kept pouring in. For some reason the band decided to play in a spot at the side of the room instead of on the stage, so about ten people had a good view. This is about what I could see: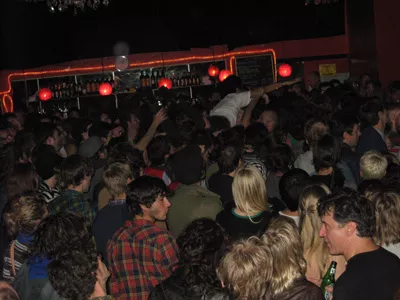 Thee Oh Sees in the corner.
I ended up standing on the stage, along with many others. There was a ton of crowdsurfing going on, and I think the band played well, but honestly, the sound wasn't very good from a side of the floor with a wall of people in front of them, and even from high up it was hard to see anything. This was definitely the place to be seen; I think almost every Halifax artist who played the festival was there, as well as members of Montreal's most high-profile indie bands (the half-naked dude behind me who kept almost shoving me off the stage also kept pointing out members of the Arcade Fire to his friends). I talked to a few people afterward who were closer and thought it was a fantastic set, but everyone I chatted with who was shorter or farther away seemed to feel the same way as me. Mike Wright of York Redoubt said it was great from standing on a table near the 'stage', but my new buddy in Black Feelings who'd sold me the pre-release record earlier also commented that he couldn't see anything. There's a lesson here, guys: That stage up there? There's a good reason clubs and theatres are designed that way.