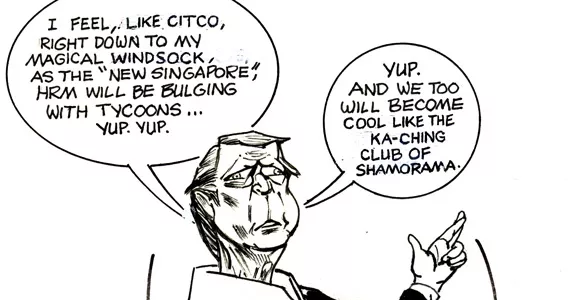 Reading Richard Starr's new book,
Power Failure
, which is about Nova Scotia's long history of botching energy policy, I was struck by a 1926 quote from future Liberal senator Eugene Forsey. Echoing the local business and political mucky-mucks of the day, who were selling the coal industry as the Next Big Thing, Forsey celebrated Nova Scotia's location "half way between two continents, just where they could supply Canada, take care of Europe, look after the rejuvenation of the British steel industry, and ultimately ship their ore and basic products into Pittsburgh itself."
Caught up in such boosterism, governments went on to prop up the coal industry with millions of dollars of subsidies, but the big dreams of success never materialized.
The Forsey quote sounds remarkably like a recent Nova Scotia Business Inc. PR piece celebrating Halifax as a potential "global financial centre." A few years ago, NSBI brought in some hucksters from Citco, an American financial services firm, to speak to our present-day mucky-mucks. The hucksters told them that Halifax is poised to become---and I shit you not---the "next Singapore." Ever since, the mucky-mucks have deluded themselves on the notion, and are dumping millions of dollars of taxpayer money into subsidies for financial service firms.
"It's not all about extensive incentive packages and tax breaks in Nova Scotia," says NSBI's PR piece. "The province offers the right balance of available talent, competitive costs, strategic location and time zone, business environment and quality of life for employees."
I'm amused by the "time zone" argument, which I've heard literally hundreds of times: Nova Scotia is just one hour off New York, and four hours off London, England, so our highly educated workers can push paper between the two financial centres in the same day, so Halifax will soon fill up with skyscrapers full of geeks, and we'll all get rich.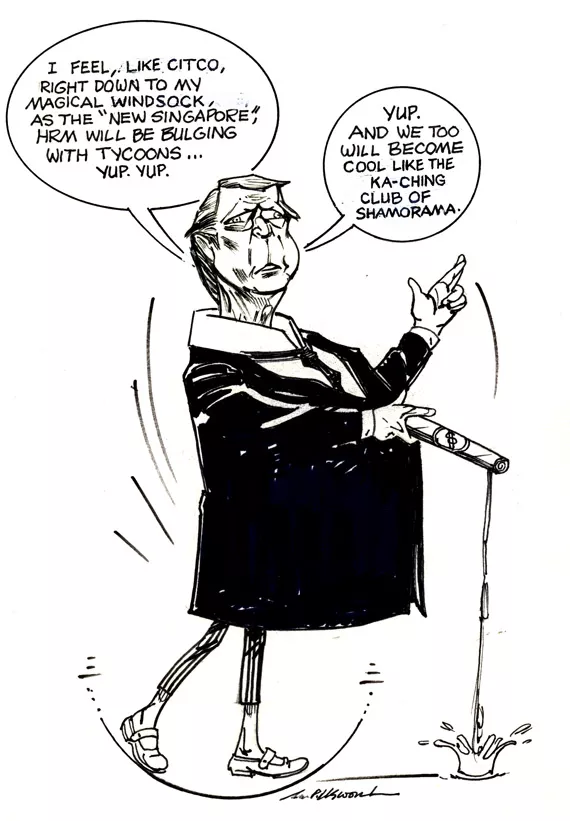 We should have learned the lesson after the call centre fiasco. Last decade, the mucky-mucks cited our English-speaking workforce that would work for pennies and, yes, our time zone, as reason for American firms to set up call centres. Well, with millions of dollars in subsidies, sure enough, a lot of firms did open call centres here. But then the subsidies ran out, and guess what? There are English speaking people in India and the Philippines who will work for even less than the pittance paid to Nova Scotians, so the firms up and left, leaving thousands unemployed locally.
There's a pig-headed wilful ignorance among our mucky-mucks. They truly believe our universities are the bestest in the world, our time zone is the bestest in the world, our geography is the bestest in the word, our geeks are the bestest in the world, and if only we give millions of dollars to offshore companies to come here, they'll see our bestestness for themselves, and their executives will travel here and leave big tips in restaurants, and that money will slosh around the economy as waitresses buy big houses with their big tips, and realtors will make so much dough off all these house sales that they'll install pools in their homes, and suddenly we'll have this booming pool boy industry, and then the resulting pool boy porn industry, and jeez gosh, there's no end to the money to be made.
But of course, India has universities, too, and people in India will work in the middle of the night, for even less money than the high-wage jobs NSBI promises will come via the millions of dollars dumped into financial service subsidies.
Our mucky-mucks stage the very same train wreck, over and over and over again.
There's a colonial mindset in Nova Scotia that thinks wealth can only come from exporting to or servicing the rest of the world; we'll sell them coal, or Newfoundland hydroelectric power via a convoluted route through our province, or our geeks will move around the tax-sheltered ill-gotten gains of the world's billionaires.
Here's a thought: let's think of wealth as something we produce ourselves, for ourselves. A power system that takes care of our own needs first. Employment based on local agriculture and production that is consumed by people right here in Halifax. Universities that educate people for the sake of graduating responsible citizens, and not to create serfs to the world.
Just a thought.