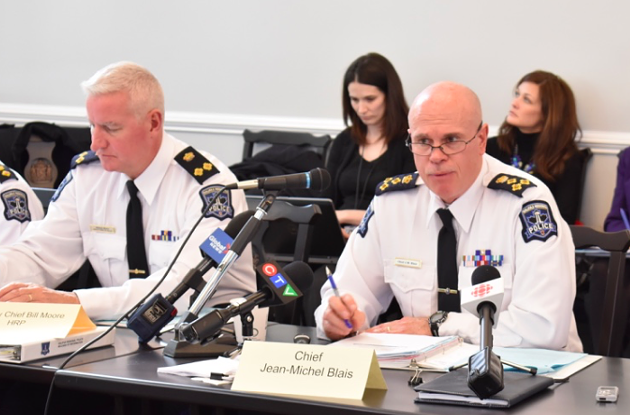 Progress is being made tracking down thousands of dollars that went missing from the police department's evidence control system.
Halifax Regional Police has located over 90 percent of the $104,289 in cash evidence that couldn't be found in last summer's drug exhibit audit.
In an
update
to the Board of Police Commissioners on Monday, chief Jean-Michel Blais said $8,887.90 remains to be reconciled.
That's down from the $26,534 the department was still looking for
as of its last update
, back in February.
Along with the cash, HRP is still trying to reconcile
multiple missing drug exhibits
—including eight
kilograms
of marijuana, 1,540 marijuana plants, three
kilograms
of hashish, nearly a
kilogram
of cocaine and an 80,000-volt stun gun.
The work is ongoing.
"We're not 100 percent accurate, at this point," admitted Blais. "We're still a far way off."
Data entry is currently 40 percent complete on a spreadsheet documenting the thousands of missing drug exhibits. Four dedicated employees are working through all those evidence files, tracking down (in order of priority) the cash, large drug exhibits (including all Fentanyl), smaller drug exhibits and other paraphernalia.
Last summer's audit listed 34 recommendations for improving a slipshod evidence control system that made it
virtually impossible
to find
exhibits,
and included numerous security threats, such as storing evidence in open Ziplock bags.
Most of those 34 recommendations have already been implemented, but Blais told the board this week that the state of police facilities prohibits a complete overhaul of the system.
The department is awaiting a consultant's report to site a new base of operations, which will replace HRP's ageing Gottingen Street headquarters and its evidence vaults.
Nevertheless, the chief has confidence in how much operations have already improved.
"Since the fall of last year, our processes are as tight as they should be," said Blais. "I'm not worried about what's going to happen in the future. I just want to clear this out."
The full reconciliation effort to track down all remaining cash and misplaced drug exhibits is expected to be completed by the end of the year.