There's little question Halifax Regional Police need a new base of operations, but where it'll be located and how much it'll cost are questions still being worked out.
An update on HRP's new facilities plan was
presented to the Board of Police Commissioners
on Tuesday afternoon, detailing options for consolidating and improving the department's undersized, outdated and dangerously unsecured headquarters on Gottingen Street.
Constructed in 1975, the brick building is cramped and inadequate for police operations. There's a "severe lack of privacy" for individuals waiting in reception, while the undersized booking area makes it difficult to prevent contact between prisoners, victims and witnesses. The 40-year-old building also contains inadequate facilities for fingerprinting, interviewing and especially DNA storage.
"One of the biggest concerns is DNA," chief Jean Michel-Blais told the board of commissioners. "We have DNA samples that are frozen and are in various stand-up and lying-down freezers. That, in of itself, is a significant liability in the case there's a compression breakdown or power outage."
Blais says the building has a backup generator in case of power outages, but officers have to rely on an alarm system if the freezers malfunction. And they do. A lot.
"Compression breakdowns happen on an—unfortunately—regular basis," said Blais.
Another major concern is the health of personnel. The building is full of asbestos and poorly ventilated. Officers in evidence control are also at risk of being exposed to dangerous substances such as fentanyl.
Concerns about air quality in the building were detailed at length in the department's 2016
drug exhibit audit
, which placed much of the blame for HRP's poor security practices and misplaced evidence on the building's cramped, antiquated conditions.
Other problems with the police station include inadequate parking, no public washrooms and a "significant risk" the building won't meet proposed provincial regulations on accessibility.
Gottingen Street isn't the only station with problems. The department operates out of five other main locations spread out across Halifax and Dartmouth. That decentralized system is, according to police, inefficient and unable to meet operational demands.
"Having dispersed, outdated facilities with little to no public space, meeting rooms or limited access leads to high travel time for specialized functions," reads the
presentation
given to commissioners.
In an attempt to rectify the situation, the municipality hired architectural firm Rebanks Pepper Littlewood back in 2015 to study how best to consolidate and replace its old offices. A completed business case for the new facilities plan was submitted last December.
Five different scenarios have been devised, ranging from maintaining the status quo to a single centralized headquarters for all operations. Other options include keeping the Dartmouth-based East Division and HRP's training facilities separate.
Consolidating all the locations under one roof would be the cheapest option, saving an estimated $900,000 in travel and personnel time.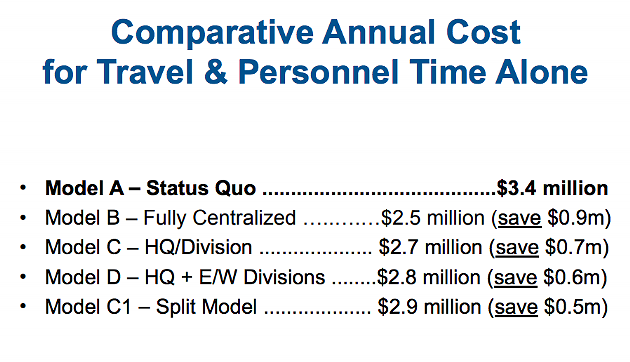 How much it would cost to build a new centralized police headquarters hasn't been released, but a major factor will be
location
.
Blais says his preference is staying within the urban core, where the station is easily accessible to pedestrians and transit riders. But given the cost of land on the peninsula and what's available in HRM's real estate portfolio, deputy mayor Waye Mason warned that Blais "may back-into having a Dartmouth facility by default."

The chief isn't opposed to the idea.

"I like having a significant presence in Dartmouth," he said on Tuesday. "I think it's very important for the community there, and also from an operational perspective."
Halifax Regional Police currently occupies 153,000 square feet of office space. The department estimates it will need another 40,000 to 90,000 square feet in order to meet its 25-year business plan.
Council will make a decision on funding the new police facilities plan sometime next month. From there, HRP will choose a location and hire a design team over the next year.
Construction isn't expected to begin until late 2021, with a move-in date sometime in 2025.