At least 12 items have gone missing from the Halifax Regional Police department's evidence control over the past three years, the result of some innocent mistakes according to deputy chief Bill Moore.
"It turns out they were misplaced in the exhibit room," Moore says. "It doesn't appear it was an intentional thing."
According to HRP records released to The Coast, eight drug samples, a cellphone, scale and black notebook over 76 grams of crack cocaine, 24 shotgun shells and $5,700 in Canadian currency all went missing in July 2014. A full list is embedded below. Moore says the exhibits were all from one criminal case, and eventually were located elsewhere in the evidence lockup.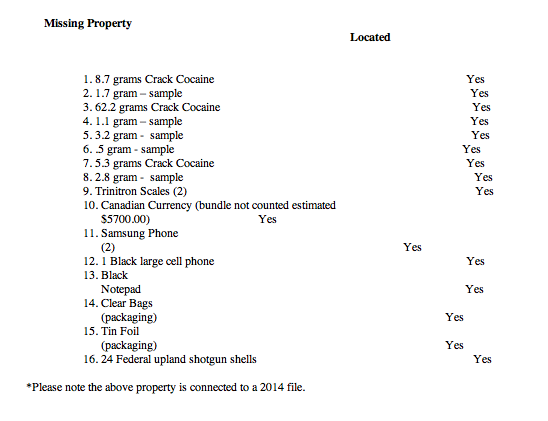 The police departments has been conducting an internal evidence control audit over the last few months, the results of which are due back in the next week or so. Moore says the audit is routine, and wasn't triggered by any particular incidents or events. To his knowledge, evidence doesn't go missing all that often from police headquarters.
"I'm hoping that's what [the audit's] going to come back and tell me."
That said, Moore claims drug samples (like the kind what went missing last year) have a habit of being misplaced. The samples—usually a "partial, partial gram"—are collected from seized drugs and sent to Health Canada to be verified as an illegal substance.
"We may take samples from 25 files and deliver those all to the lab at the one time," says Moore. "Those 25 come back, and maybe two of them get put into one spot instead of one being put into another. I'm not trying to make excuses for that, but I've seen it done."
Moore, who used to run the evidence section "a number of years ago," says missing drug samples could turn out to be at the lab, labelled with the wrong number or stored in the wrong file box.
"It's not uncommon for those to get mailed out, or mailed back in and just get misplaced or whatever."
Last week it was reported by CBC that an undercover detective with the Halifax Regional Police has been suspended with pay while under investigation by the Serious Incident Response Team for theft and breach of trust.
Constable Gary Basso is facing "significant" allegations from a theft believed to have occurred in March 2015 from inside police headquarters. Ron MacDonald, director of SIRT, wouldn't confirm to CBC if the theft involved police evidence.
At least one other case involving evidence going missing from HRP's lockup wasn't included in the totals released to The Coast. The case it pertains to is still before the courts, and thus not accessible under Freedom of Information legislation.
The finished evidence control audit which is due back this week will be available for anyone to read, but only through a FOIPOP request. Moore says the department doesn't normally publicly present audits to HRM's Board of Police Commissioners.

"Unless there's something major or over the top, normally it doesn't come to the board unless the board asks for it."
There were 14,308 items in HRP's evidence control in 2014, not counting drug exhibits (which are handled separately).