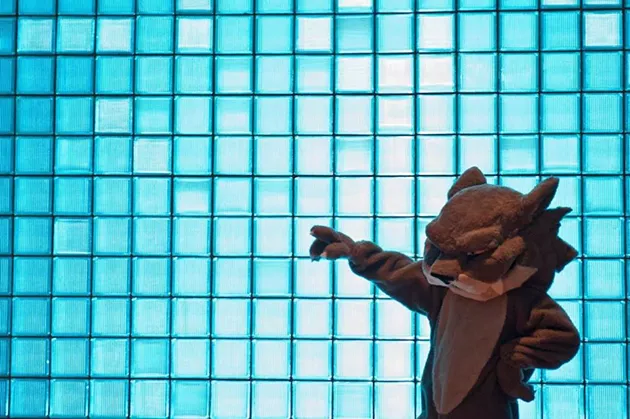 Tonight at the
Halifax Grammar School's Atlantic Street Campus
(5750 Atlantic Street, 8pm
sharp
), you can take part in the conclusion of one of the most legendary basketball games to ever hit Halifax. The East Coast's
Sobey Art Award
nominee
Lisa Lipton
invites you to the
Hoop Dreams Playoffs
between the
Bayside Jaguars
and
Deep Chaos
,
two rival teams that have been feuding in Lipton's multidisciplinary art performance project since last May.
If you passed through the
Citadel High School
gym on
Nocturne
, you would have seen some of the region's top ballers compete on the court while six drummers accompanied the rhymes of local hip-hop artists. Lipton says, "The game being played revolves around the rhythm of rivalries, each player contributing to both the reality and fiction of a localized championship, a heated moment within the project's narrative, a time and place where tensions run high, while perceptions for taking the win become disrupted through the display of unconventional musicality."
Tonight's season closer will feature the drumming of
Nancy Urich
,
Bianca Palmer, Hannah McGrath, Scott Grundy, Nick Dourado
and
Lipton
with musical contributions by
Real Eyez, Jody Upshaw, Josh Salter
and
Andrew Neville
. Bayside Jaguars captain,
Paul Doucette
, will call the game, and
Garnet Estabrooks
acts as co-captain and recruiter. There is also a troupe of dancers at half-time, mascots, lights and sounds. It's going to be a night to rival all nights and the union of the most beautiful things in the world: basketball, music and art.
The
series of games
are elements of Lipton's incredibly complex film and art installations that correspond to her episodic feature-length film
The Impossible Blue Rose
, which obscures concepts like identity, anonymity, fiction and non-fiction, all shrouded in allusions to landmark 90s-teen hit,
Saved By The Bell.
Spectators are asked to flood their social media channels (Instagram/Facebook) using the hashtag
#greysville
to further confuse our sense of reality.
Lipton's
Sobey Art Award exhibition
is on view at the
Art Gallery of Nova Scotia
until January; the $50,000 award winner will be announced tomorrow night at the
Sobey Art Award Gala
. Three cheers for Lipton. She is truly one of the most intricate and
innovative contemporary artists
working in Canada (and
Hawaii
) today. I'm rooting for Chaos.