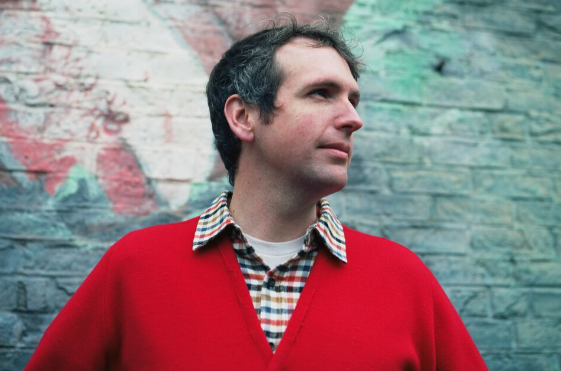 After a long winter in Brandon, Manitoba,
Polaris Prize
-nominated rock 'n' roller
Shotgun Jimmie
(Jim Kilpatrick) is back on tour with his new album
Field of Trampolines
. Produced by
Joel Plaskett
at his Dartmouth studio
New Scotland Yard
over four jam-packed days last August, it's Jimmie's most fun and upbeat record to date, and the positive vibes are due in part to his backing band, Winnipeg's
Human Music
, and songs that celebrate good times on the road.
"This one has a very positive message," says Kilpatrick, on the phone from his old hometown of Sackville, New Brunswick, where he just finished an eight-day residency at art bar,
Thunder & Lightning Ltd.
"The field of trampolines is this metaphor of a better place, a magical weightless land with only the good parts of life. So I think that comes across in the songs." Ten joyful tracks show a change of pace for the former
Shotgun & Jaybird
. His last few albums, including the heavy
Transistor Sister
and 2013's moody
Everything, Everything,
were much darker.
"People think just cause something is brooding or cynical means it's more sophisticated," Kilpatrick says. "I feel like some people don't think happy music is as complex, but I think positive music can be just as meaningful." Lucky for him, the last few years have been great. He got married in Texas, started a Bachelor of Fine Arts degree in Manitoba and has been super busy with exciting projects in arts and music. The album's themes pull from this pretty sweet time in his life.
"I wanted to make a record where all the songs spoke to each other in a very obvious way," he explains.
Everything, Everything
was much more of a collage, by design and by title. "I tried to get everything on it, shamelessly" he laughs. "But by compressing the recording of
Field of Trampolines
into four days, it really gave the album much more of a cohesive sound. We just didn't have time to venture too far from the central aesthetic, which I think totally works in its favour." Add Plaskett into the mix as the producer, and the album is nothing but fun, with hints of the long musical relationship between the two songwriters.
"You can hear Joel's music in my music because he's an influence," says Kilpatrick. In 2011, Plaskett's
New Scotland Records
released a
seven-inch
of two companion songs by Plaskett and Jimmie, poking fun at the similarities between their styles. "Most of what he did on the record was take stuff away," says Kilpatrick. "The result isn't Joel Plaskett's 'trademark sound,' but the sound of a guy who has tons of production experience, who has thoroughly examined popular music and rock, to the point that he understands it like Keanu Reeves at the end of
The Matrix
."
With
Human Music
, they spent four long days at Plaskett's studio bouncing around on
Field of Trampolines.
"There are moments when you can hear some Joel-style backing vocals, but he didn't put too much of himself on it. He wanted to work with me because he wanted to do a hi-fi Jimmie album, to elevate my sound," he says. "We went into that hi-fi world where I've never been before, and it's exciting to inhabit that space. And they say once you go hi-fi, you can't go back. But I think I'll go back, my next album will probably be recorded on an old telephone or something."
Plus, Kilpatrick says, the studio is beautiful: "It's an extension of Joel in that it's fully equipped, anything you wanna do is possible. It feels like a jungle gym. There's all this neat stuff to play with, everything you need is there. You want a B3 organ? Sure. It's like the holodeck on
Star Trek
."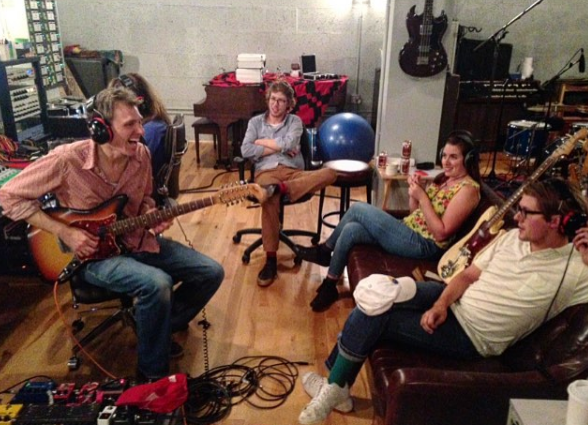 Like most of Shotgun Jimmie's records,
Field
is filled with puns, travel tales ("You got the whole wide world to see, ain't it something?"), halloumi in
Kreuzburg
, songs to his old bandmates and friends ("
Song for Julie, Chris, Rick + Mark
," "Constantine Believer"), and stories of good times in places like the Regina diner ("It doesn't get any finer"). He's got an affinity for brunch.
"I released the first single at
Auntie & Uncles
in Toronto," he says. "It's not so much diners I love as the ritual of hanging out with people from the party the night before. At the party, everyone is sloppy or drunk , and when a night's really great you don't want it to end, so it's like, 'Let's meet for brunch!' and you're tired, maybe hungover and nostalgic for the night that just happened, and I feel like you relive those moments and everyone is tender and loving at those morning brunches."
Now Kilpatrick's on a cross-country tour with stops at the
Lawnya Vawnya
music festival in St. John's, and the residency in Sackville where he spent eight nights performing his own songs and songs with artists like
Michael Feuerstack, Steve Lambke
and
Lucy Niles
(
Partner
) at
Thunder & Lightning
. On Friday, he's back at Gus' Pub with Lambke,
Mitchell Wiebe's
post-punk project
G.L.A.M. Bats
,
Ian Roy
and
Amy Siegel
and then he'll be looking for breakfast.
"Is the
Spartan Restaurant
still in Halifax?" Kilpatrick asks. Sadly, the beloved Quinpool and Oxford Street diner closed in 2010. "Remember the old Greek lady who would just go 'bacon and egg?' and then would just leave for awhile then come back with your breakfast?" he says. "One time me and
Fred [Squire]
were there and she just brought us breakfast but it was
exactly
what we wanted. They had the best homefries, those thick potato pucks. We used to try and reverse engineer those Spartan potatoes, and their rice pudding was off the hook. It was a special place."