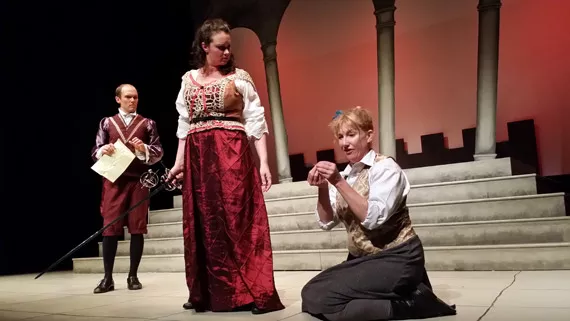 Constance Ledbelly is a doormat—albeit a brilliant, passionate doormat. The problem is, she doesn't recognize her own brilliance and passion.
In Ann-Marie MacDonald's award-winning comedy Goodnight Desdemona (Good Morning Juliet), that changes when Constance is sucked down the rabbit hole (or in this case, through a waste basket) into the middle of two Shakespearean tragedies. She turns the stories upside down, and discovers her own power in doing so.
For Valley Summer Theatre's production, running to the end of July in Wolfville, Jackie Torrens shines as Constance, bringing both clarity and impeccable comic timing to MacDonald's break-neck wordplay. The secondary characters are played by a talented cast (Andrea Lee Norwood, Bruce Tubbe, Emma Slipp and James MacLean) who are called upon to play multiple roles. Slipp, in particular, stands out as the unexpectedly ferocious Desdemona.
Katherine Ryan's simple set, made up of expansive stairs and arches, allows the easy passage through time and place, and their slightly off-kilter proportions echo the twisting of our expectations. While this play can be described in academic terms as a journey of self-actualization, it's really a high-energy, light-hearted romp—fun and entertaining. Perfect for summer theatre.
---
Running through July 31
Al Whittle Theatre, 450 Main Street, Wolfville, NS
$30