The recycled plastics market "used to be so bad everything was going to China," Ken Donnelly says. Donnelly specializes in large-scale public participation in environmental initiatives, and was involved in the creation of Halifax's much-lauded solid waste program.
It's a strange phenomenon he describes, the lack of markets for recycled plastics. Much of our plastics are broken down into pellets, then used to make more plastics. You'd think there'd always be a market for that.
Donnelly tells me a story about the city of Toronto's 1990 attempt to make newspapers use a minimum amount of recycled content. TO's big papers suddenly had to outsource to the US because no one was producing recycled content locally. The ensuing US newsprint boom presented an opportunity for Canadian papermakers, some of which spent fortunes retooling. They then entered a bidding war to get the newspapers' business. The bottom fell out, price-wise. Many went out of business.
Donnelly is illustrating the complexities of recycled goods markets, and the existence of bottlenecks that are invisible to all but industry insiders.
More recently, as municipalities across Nova Scotia hurried to expand recycling programs to include all numbered plastics, HRM held out. "We were the last to come on board," says Laurie Lewis, HRM's diversion planning coordinator. "We weren't going to do it until we ensured that it was sustainable."
HRM took a prudent step. If it was going to commit to recycle all plastics, it wanted to know it wasn't shipping them across the globe to be burned.
It created a progressive, and unique in Nova Scotia, requirement that the company managing the plastics, Miller Waste Systems, "undertake reasonable due diligence to ensure that materials are being recycled in a responsible manner...the documentation of where materials are going, who will be recycling the material, and that a Quality Management System or similar type program exists."
In adding this clause, HRM has allowed more things to be recycled and at the same time given some assurance that we won't dump plastic garbage overseas to paint ourselves green.
Currently, all of HRM's plastics go to an Ontario plant, one Miller has a long history with and that is unusually stable. It turns plastics into inputs for the auto and packaging industries.
But things could change. Some unforeseen bottleneck could form. "We have been looking to secure markets in North America where possible," Lewis says. "Overseas markets are also an option."
Miller has identified an overseas plant that sells its plastic pellets to makers of drain pipes, flower pots and packaging. The new "best practices" protect against our carefully sorted junk being "dumped into the countryside, contaminating local water tables with poisonous effluent," as an Ecology Action Centre story from 2007 argued much of the plastic imported by China is.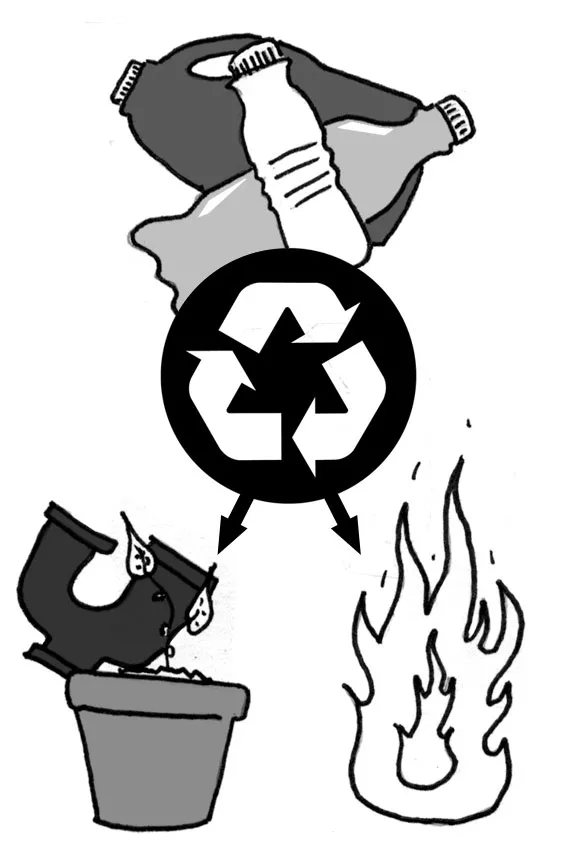 According to Lewis' staff report recommending that HRM accept all plastics, "Miller has obtained disclosure that the receiving facility is licensed and permitted by the relevant local regulatory authorities, conforms to international labour laws and standards, does not employ child or forced labour and the manufactured product has been identified."
But there's always room for improvement. Donnelly, who spends considerable time visiting other countries and telling them our solid wastes secrets, observes an interesting trend toward full-carbon-analysis solid waste management emerging internationally. Scotland is leading the charge, with its brand new zero-waste policy released last week.
In a full-carbon-analysis approach, solid waste managers look not at volume or mass of garbage diverted, but at the total greenhouse gas emissions from production, shipping and processing of waste, as well as at other significant impacts like land use and water pollution. Such an approach could flip our understanding of garbage on its head.
Wedded to increased incentives to process plastics locally---which isn't happening in Nova Scotia---and the development of new local markets (for example, did you know cow mats made from tires significantly improves milk production in dairy cows?), a carbon-analysis approach could spell the end of shipping garbage around the globe and be a boon to the local economy.
Tack on a ban on over-packaged products and even I might be happy. Almost as happy as if we stopped consuming so much junk in the first place.