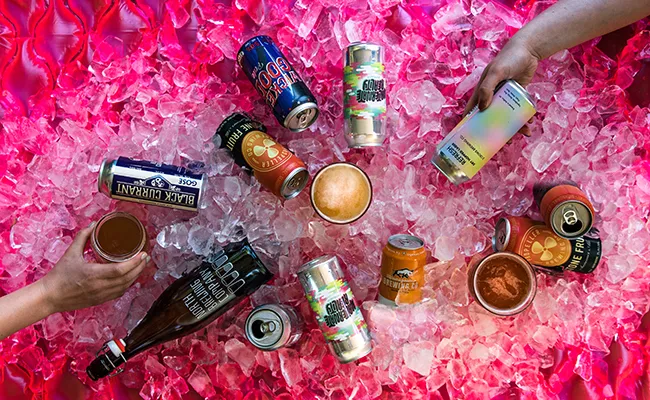 Stilly Pils Unfiltered Pilsner
Stillwell Brewing Co.
Available on draught only at HQ and/or the beergarden, this beer is a must-try when you see it on tap. Brewer Christopher P. Reynolds is constantly chasing the perfect pils and is well on his way to nailing it. Punched up with noble hops, there's just the right amount of bitterness. Whip the meringue.
Guava Heist Berliner Weisse
Tatamagouche Brewing Co.
Our favourite refresher from last summer is back. Summer mornings in a glass with last year's all star fruit, tartness and carbonation carrying the tropical and citrus flavours and finishing clean. Did we mention 3.6 percent ABV?
Lager Driver Vienna Lager
Lunn's Mill Beer Co.
Think classic Boston Lager with this well made Vienna style brew, but fresher and made here, with some earthy bitterness and toasty malt presence and all that easy lager drinkability. Will pair well with the views from Lunns Mill's (or is it Mills Lunn's?) new patio.
Stone Fruit Summer Ale with peach, apricot and mango
Propeller Brewing Co.
Summer Ales come and Summer Ales go / this one is worthwhile, not considered so-so / This summertime ale's got it goin' on / peach, apricot, and mango and nice carbona-tion / Prop's Summer Ale was a cinch for this list / A nice refreshing brew with a stonefruit twist
Blackcurrant Gose Gose with blackcurrant
Bad Apple Brewhouse
This gose (say: Goes-uh) is a little sweet, a little sour, a little salty and a lot tasty. Bad Apple Brewhouse up in Somerset has been cranking out great beer for years, and this summer slammer is no exception. (Pro tip: Grab some of the Brett Pear Cider and make a blend. You'll thank us later.)
The Sex Russian Imperial Stout with raspberries
Tidehouse Brewing Co.
If I could make one recommendation to you this summer, it's that you have The Sex. The Sex would be great by a campfire, or you could have The Sex on an easy Sunday morning. The Sex is great to have with another person, but you can have The Sex all by yourself as well.
Wicked Good New England-style Pale Ale
Garrison Brewing Co.
Garrison's latest iteration of this beer is wicked pissa, and available in cans! Big hop aromas and hazy appearance are trademarks of the style and Wicked Good does not disappoint. Grab a few basically anywhere beer is sold. Pairs well with watching baseball with yer bahds.
Refresh Dry-hopped Lager
2 Crows Brewing Co.
A recent release, this #crispyboi from 2 Crows is brewed to do one thing: Refresh. (Clever name, eh?) At 4.8 percent, this beer is summer in a can and is ready to accompany you to the course, the park, the beach, the diamond or anywhere else you may find yourself in need of refreshment this summer.
W&A Railway Rye IPA
Annapolis Brewing Co.
Punch your ticket for this IPA, pumped up with rye malt. Citra hops help bring a zesty aroma to the beer, while the rye brings a spicy note to the bitter finish. Grab this one if you see it around town, or head down to the Annapolis Royal and nab some at W&A Railway's taproom or the Craft Beverage Farmers' Market every Sunday (at Annapolis Royal's Market Square) this summer!
Malternate Reality New England-style IPA
North Brewing Co.
This is the haze for those summer days. North's tropical, juicy and smooth-sipping New England-style IPA was one of our favourite beer from last year, and it's just perfect for those hot summer afternoon barbecues. Check North's locations in Halifax and Dartmouth for this one.