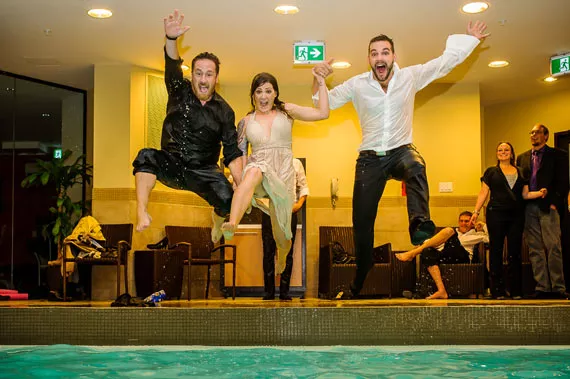 Liam Hennessey is a no-bullshit kind of guy. He's also one of Halifax's premiere wedding photographers. Coincidence? We think not. When all of the wedding festivities are said and done, it's the photos that'll help keep your memories fresh. So how do you know who to trust with the massive job of capturing them?
"It's about managing people and personalities, it's about knowing when to step in and when to stay out of the way," says Hennessy, frank as usual. "And most important of all, its about telling the story, the true, unscripted, real story of the day." —AS
Forget the cookie-cutter shot list
"You know those lists of must-have photographs you find on The Knot sand Wedding Bells? Throw them away. Any good photographer with experience knows, without thinking, that they need a photo of the first kiss, the dress, the bride with parents.
Weddings are about emotion. The love, laughter and the tiny details that you don't see happen. Anyone—and I really mean this—anyone can make a good photograph of a beautiful couple in beautiful light with lots of time. Shopping for a photographer should be about the three Ps—price, portfolio and personality."
Money buys experience
"Everyone has a budget and wedding photography prices vary from free to friggin' expensive. There's a direct relationship between price and experience. Note: I did not say 'quality,' I said 'experience.' The most expensive photographers are most often the ones who do this full time and have done so for years. They've seen it all, endured it all and there's not much that can throw them off their game. You're paying for more than just the quality of their work. You're paying for their ability to adapt to any situation, any personality and timeline as well as their ability to follow through on a contract."
Don't judge a photographer by one wedding
"All you have to do is ask to see beyond the portfolio. The sunset smiles and lavish location shots are great, but what can you really expect when your photographer hands over your 500 plus photographs on a USB? Ask to see a full wedding gallery. Even better, ask to see a full wedding gallery from your venue. This is a much better option than asking, 'How many photos do we get?'
Consider time of coverage when you're looking at a portfolio. When you really think about it, a wedding day flows like this: A couple hours of preparation, a 15-30 minute ceremony, 30 minutes to two hours of posed photos, two hours of dinner and speeches and then, finally, the dance! Some of our favourite images come from late-night dance floor, last song of the night, singing at the top of your lungs 'Hey Jude's and 'Don't Stop Believing's. If this is important to you, ask about how soon your photographer leaves your wedding at the end of the night."
Personality is mega important
"I've got a bad tattoo on my right hand from a late night of partying with a wild wedding party we went to Mexico with. It's a horrible tattoo that I couldn't love more. Steph [Camp, fellow Applehead photographer], too, has an almost illegible script of permanent ink on her hand from the same event. We poured straight tequila down our throats for seven days and boarded a plane with a most excellent hangover we'll never forget. We laugh, we joke, we tell dirty jokes...but we're not for everyone. The personality of your photographer is a pivotal point to consider. More than anything else, it's about creating a stress-free and easy environment so the very best thing you can do is meet with photographers, in person or via Skype or phone. You spend the whole day with them. It's really important that you can trust them and enjoy having them around."
Do your homework
"Start with a local Google search, browse blogs and looks at your friends' wedding photos. Consider your style, location, personalities and budget. Send your prospective photographers specific information about your wedding and your wants. Most important, go with your gut."