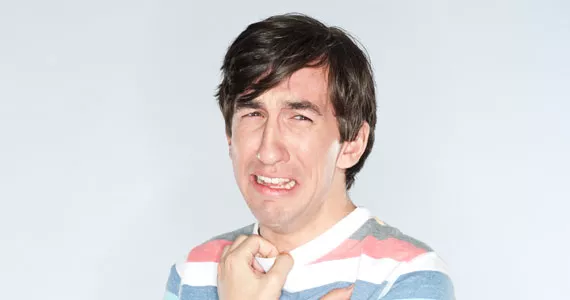 The Coast:
How's the show coming together?
Mark:
It's been OK. We just need to see how it looks, edited. A few of us, especially Andy, is flying to Toronto as soon as we're finished shooting. He'll be digging into the editing, making notes.
The Coast:
Your executive producer, Mark McKinney, veteran of
Kids In The Hall
, says he finds Picnicface is pretty self-actualized.
Mark
: I guess if you have an eight-person group, you get pretty good at internal notes. We're already talking to each other so much, I assume sometimes he feels like an extra voice or extra noise. But we appreciate his notes.
The Coast
: Do you think the show will resonate with people like the internet stuff has?
Mark
: Ideally we'll be able to at least hit that level, what we've done in the past. And then we've got way higher production value on this one and really cool costumes. Ideally it will take what we've already done and build on that, the ways television can build on the internet. With a budget. That would be best-case scenario. I'd be OK if it was as funny as the stuff we put out and I'd be disappointed if it was less funny. Very disappointed.
The Coast:
Is it fun or do you feel a lot of pressure now that you're working on TV?
Mark:
Yeah, it's fun, but there's a lot of pressure. Because if it's not good enough there won't be a second season. We've been doing this for six years, so this is undoubtably the culmination of that work. It either leads to more or it's like, "Thanks for the six years, cool!" It would be awesome to get to do this, more. Do I sound like an Eeyore right now? (laughs) It's been fun and I've enjoyed the process immensely!
The Coast:
What have you learned about making TV, versus
Roller Town
?
Mark:
This is definitely more in our comfort zone, sketches instead of overarching narrative. All these questions are very difficult because I feel like I'll have a grasp on them three months from now. When I've seen the stuff and been separated from it. The way people talk about all this stuff. I've got another Eeyore answer. People are like, "You guys are going to own 2011, you're releasing a book, a TV show and a movie!" I'm like, yeah, the quantity is definitely there. No doubt. In terms of a pure numbers game, we're going to own 2011. But it's not a numbers game. Nobody cares if you own 2011 if it's all bad, it's going to be the worst possible scenario.
The Coast:
Well, you've got to hope something's going to hit.
Mark:
You think so. Because, traditionally, when you spread yourself really thin, it all comes out that way, doesn't it? That's the advice they give, spread yourself as thin as possible and see what sticks. If it all does, I'll look back at this interview and laugh!
The Coast:
Don't you feel that past success proves you have what it takes?
Mark:
Regardless of that, I fit into this thing where I love working on something, and I don't want to see it finished. Because that's when people can tell me if it's good or not, and I don't want to hear that. So, this is actually the worst possible thing that I can imagine, three separate things where the work is done and all that's left is feedback. And I can't foresee a situation in which I'd be pleased with that feedback. Because at least some of it is going to be negative, and it's going to
kill me
. So what's coming up is not exciting to me. I'm really excited for the next thing that I can bury my head in and ignore the world around me.
The Coast:
What are you writing that's new?
Mark:
Three of us are writing movie treatments, to try that again. It was fun the first time but there are a lot of things we could do better. And that's a fun process, writing a movie. Getting to watch all the movies in a genre you like and take notes. Learn how the craft is done.
The Coast:
And what genre are you watching?
Mark:
It's a very specific genre of movie fantasy, where a child passes through a portal into an allegory world, where all of her personal problems are projected. So,
Alice in Wonderland, The Wizard of Oz
and
Spirited Away,
all of that stuff. I love that genre so much. This girl is a bit selfish, well, in a fantasy world she's going to learn that selflessness is the key to defeating, literally, a witch. And then she'll return home and the real lesson she's learned is she'll be a little less selfish in the future. I love that it's these super-small life lessons projected through this gigantic fantasy prism. Scott's watching a bunch of
Dr. Who
right now.
The Coast:
So his project is different to yours?
Mark:
Well, it might converge. We're all constantly working on something.
The Coast:
Do all the members of Picnicface agree on what's funny? Is it democratic?
Mark:
Sometimes it ends up that way. There's a little bit of compromise, for sure. We try to work towards consensus. It's always the creator's last word. No one else is going to tell them what to do with that premise. So a lot of advice and ideas gets thrown at the creator. But a lot of that gets used because we trust each other. That's the benefit of live shows, that humbling experience of doing something on stage that you find really funny and getting no response from an audience. When that happens a few times you learn you don't always know what's funny. That process in turn teaches you to trust the group and their opinion because they're the nearest thing to an outside eye that you'll have. That's the benefit of eight people, the larger microcosm of an audience than most sketch groups have. [He pauses.] I'm trying to tell this chunk of information in as slow and boring a way as I can. I've put my foot in my mouth in enough interviews to know that if I don't speak slowly I'll end up slandering someone in the entertainment industry and making myself look like an awful person.