Last night, after the Sobey Art Award, the party moved onto ArtRising, a fundraiser for the Art Gallery of Nova Scotia. Hosted in the gutted Dooly's space in the Roy Building on Barrington, the industrial feel—the peeling walls, the concrete floor—made you feel as if you were transported to another place (or decade, actually, minus the right drugs), until, of course, you saw the telltale Metro Transit buses fuming up Barrington through the exposed front window. Artist Mitchell Wiebe, who also performed in his band Pastoralia, acted as creative director, and it was fantastic to see some of his larger paintings hung in a large warehouse space with plenty of room to breathe. Wiebe put a twist on the W-hotel style beds-in-bars, by lining them with hundreds of miniature stuffed animals, scattered all over the room.
The crowd was an unusual mix of people, including artists, politicians, real estate agents, members of Fusion and the Sobey nominees. I'm guessing everyone usually doesn't hang out together on Friday nights. I would divide them between those who can afford a $50 ticket and those who can't, who received their tickets through other means. Wisely, the AGNS launched their young donors program for those who can, as they've obviously discovered a young demographic who are itching for a little culture, and a lot of Hamachi sushi.
Picnicface were on hand to provide a little creepy animal magnetism. I didn't realize it was them, until I saw a telltale tattoo on a lion. Also their roller-boogey skills were way too advanced. Props to this nightmarish scene: pink rabbit playing Monopoly with a half-naked masked lady who looked like she was pulled from Eyes Wide Shut.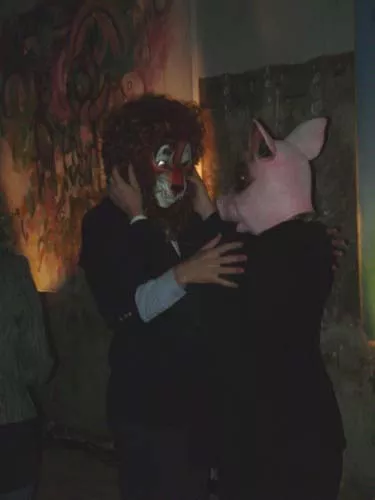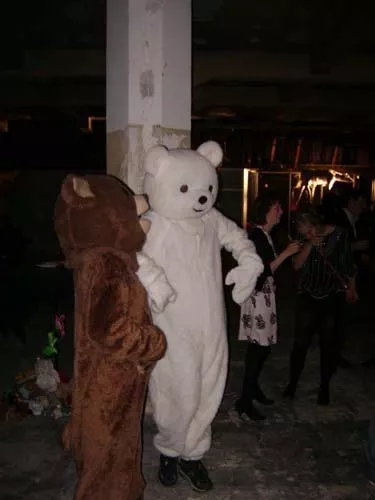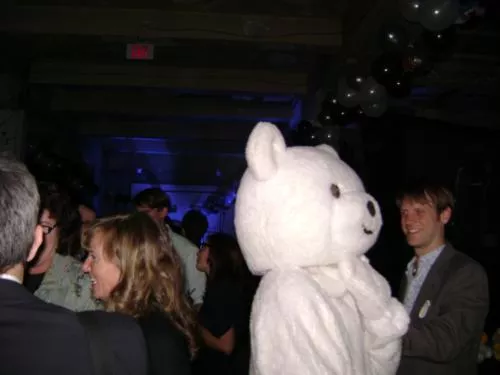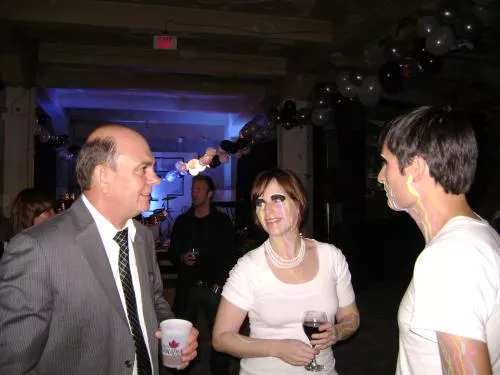 Sobey nominee Graeme Patterson's pop with Ray Fenwick and Rebecca Young of Pastoralia
Nominees Graeme Patterson and Marcel Dzama (right), plus added bonus: guy smiley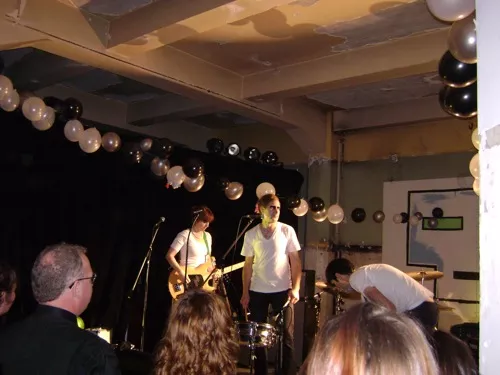 Pastoralia get ready for the father-daughter dance.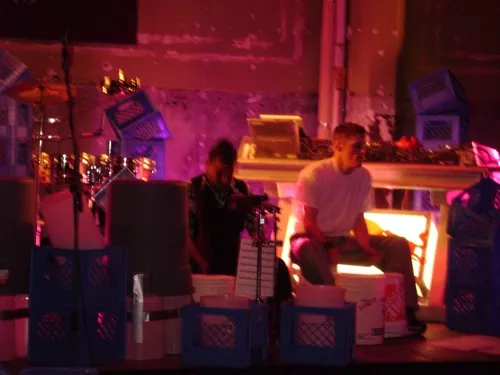 DJ Cosmo with members of Drum
I've been assured by those in the know that Louis Resnick and Starfish Properties (who own the Roy Building) have big plans for the space, but in the meantime it was wonderful to have that damn Starfish paper which covers so much of the Barrington landscape, peeled back for at least one night. Hopefully this won't be the last time this space is used for art or party purposes. I have a pair of rollerskates...