This morning, as I walked over to the Gottingen Street YMCA with the Halifax North Memorial Library women's group and MP Megan Leslie, I was thinking about Halifax artist Cathy Busby's project Sorry. Her exhibition of public apology photographs and text—from Janet Jackson's wardrobe malfunction to Stephen Harper's apology to First Nations Canadians—has shown around the world. We live in a media-saturated society where there is a formula for public atonement: Tiger Woods needs practice, I'm afraid. Peter Kelly didn't even deliver the only apology today—Yoshimi Inaba, CEO of Toyota, announced that he is "deeply sorry" for his company's malfunctioning cars.
Peter Kelly delivering the formal apology.
Is it just words?
"You lost your houses, your church, all of the places where you gathered with family and friends to mark the milestones of your lives. For all that, we apologize."
Say what you will about the delivery of the speech or the words themselves, but I thought Kelly delivered a surprisingly straightforward, direct statement. Read the full text here. It was Reverend Rhonda Britten who delivered the most impassioned speech, using a powerfully chosen war analogy: "I know that there are some among us who are wounded, and some among us who bear those scars. But, in spite of all of that, the victory has been won...We must forgive and must push forward."
Former Africville resident Brenda Steed-Ross.
This was an emotional day, one that many people thought would never arrive. For an excellent background, take a historical look back with Stephen Kimber, and wait for his story about the Black Loyalist Heritage Society's proposal for a new museum, which comes out in tomorrow's paper.
Peter Kelly presents Irvine Carvery, Africville Geoneology Society president, with the formal apology.
Along with the apology, of course, there was the announcement of:
-$3 million towards the reconstruction of Seaview United Baptist Church and an interpretive centre, backed by $1.5 million from the provincial government and $250,000 from the feds
-2.5 hectares of land at Seaview Park to be given to the Africville Heritage Trust
-the renaming of Seaview Park to Africville
-designation of an African Nova Scotian Affairs function by HRM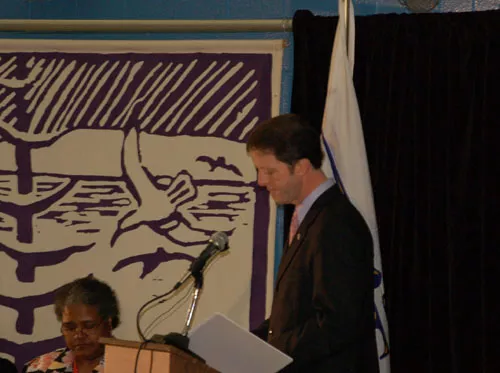 Peter Kelly gives the numbers.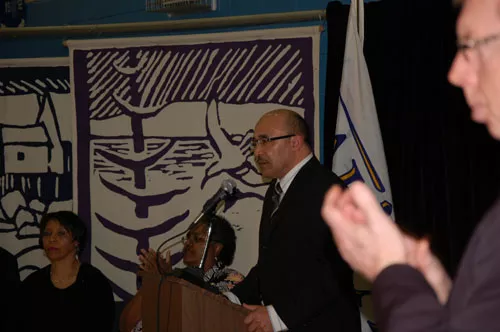 Irvine Carvery is met with applause and boos.
It was no surprise that there was a small group of protesters in the room that occasionally became vocal, but not overpowering: The compensation package is being legally challenged by a group of citizens with ties to Africville. The claim is that Irvine Carvery and the Africville Genealogy Society negotiated directly with the city, which was not constituted by former residents and their descendants. For the most part, the meeting itself remained civil, with little disruption. But this story is far from over. I'm sure the analysis will continue, and I look forward to what others have to say about today, but right now, I feel lucky that I was there to witness this historic moment.