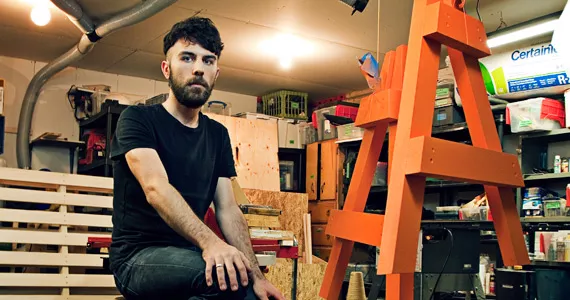 Wandering into Peter Van Gurp's recent exhibition at Anna Leonowens Gallery you'd be forgiven for thinking that you'd mistakenly walked into a room under construction. A pallet, cardboard boxes, a road work sign, an orange barrier, a length of chain, cinderblocks—Van Gurp's pieces are so unremarkable in their everyday familiarity that you may not notice they've been meticulously recreated by hand. "They were all made with a very labour-intensive process, all made by hand using raw materials," he says. "I tried to manipulate them so they look mass-produced without any trace of my hand."
Each piece has a corresponding digital model, and a digital walkthrough of this exhibit can be viewed at Van Gurp's website, petervangurp.com.
Van Gurp, a volunteer at the Khyber Centre for the Arts and the Eyelevel Gallery, recently spent a few months in Berlin participating in group shows, and due to the nature of his work, his pieces are nothing if not consistent. Honing his skills at NSCAD's wood and metalshops, Van Gurp's exact replicas of everyday urban objects add into his library of forms to work with. "I'm interested in making the same form but with different material and noticing differences between two. The key thing I work on is interplay between two—when I work with these things so intimately then recreate them digitally I feel like I gain strong ownership over the materials.
"I choose objects based off of their ease of reproduction, the objects' connotations and how they exist in the prescribed space, I like to play with that, as most of my work goes into a white space," he says. "I'm also interested in the symbolism of objecs, they have some function in terms of navigation, they would direct you through the city or the gallery, or have some relation to labour—I find that fun to connect with the fact that I've laboured over making them. It's sort of humourous to me because they are entirely pointless, I like that unmarketable, pointless, un-innovative aesthetic. I don't take an interest in designing things, I'd rather use what's existing."
---
Navigating Interface
To January 31
Anna Leonowens Gallery, Granville Square, 1891 Granville Street