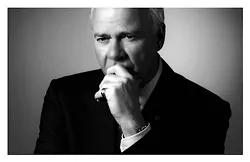 Update: This event has since been cancelled.
While retirement means slowing down for some, it doesn't look like former CBC anchor Peter Mansbridge has been sleeping in or taking up gardening: Since stepping down from hosting The National this July—after holding the seat for a whopping 29 years—Canada's grandpa has been gearing up for a coast to coast storytelling tour.
He says (via press release) it'll be an evening of behind-the-scenes tales that shaped the news, the country and himself: "These are personal stories I've collected over the decades."
Catch him in Halifax at the Rebecca Cohn Auditorium October 23. Tickets go on sale August 28 and range from $41.00 - $101.50. You can grab yours at the Dalhousie Arts Centre Box Office, by phone at (902) 494-3820 or 1-800-874-1669 and online at artscentre.dal.ca, evenko.ca and livenation.com.