The barns are twice as long as this
June 18 Day 49
19.02 miles (30.61 kms)
Menahga to Route 19, Minnesota
I meet two great women. But first, let's talk turkey. I pass a huge long barn with turkeys crowded in the big screened windows. They aren't gobbling, exactly—it's more like barking. There is a great stink. There are two other huge long barns, but they are empty. I have seen this before. To save on utility costs, a turkey farmer leaves all the turkeys in one barn until the barn is bursting, and only then divides them up and opens a second barn. And waits until the turkeys again have no more ground space, and are on top of each other, and then opens up a third barn.
The day after the storm is perfect—cloudless, breezy. The pine trees are happy. I am sitting on the ground on a break when a woman stops her car and asks if I am ok. "There's nowhere to sit down in Minnesota!" I yell, and she calls back, "you have to find a tree stump!" She is Nona Hansen and she invites me to stop in for coffee at her place two miles down the road.
I do and we yak for two hours. Her coffee is really good and she has real half-and-half. We have a lot to talk about—mothers and books for children, archery and venison, depression and job stress. I mention that one reason I am happy to be in Minnesota is that I have always had a great love for the Indian Princess on Land O'Lakes packages of butter, etc. Nona gets a glint in her eye and says she'll be right back. She returns with a small wooden box and in it are cut out Land O'Lakes Indian Princesses. "Do you know what's under her butter?" she asks and I shake my head no. Nona passes over a princess. She has been folded up from the bottom and the pound of butter she holds has been cut on the two sides and bottom, and is now a small flap. When I lift up the flap, there are the princess's breasts, which were her knees before the folding. I am beside myself with glee. Nona gives me a cut out. I am thrilled. We speculate that the princess has been redrawn over the years, like Betty Crocker and Aunt Jemima. We wonder if the shading on her knees has changed too, perhaps because a graphic designer knew about this trick? It's all wonderful.
Later in the day the sky is ominous and I am on route 19, where there are not many places, but I stop at a house and Marcella Fisher is glad to let me sleep in a shed, which she later tells me used to be the hog house. It's dry and great. She brings me out a banana. Her husband died four years ago, so after 59 years on the farm she is moving to the nearby town of Pine River. "I'm getting a really nice apartment," she says.
June 19 Day 50
18.81 miles (30.27)
Route 19 to Fifty Lakes, Minnesota
Marcella gets out her big ass Chevy 1500 Silverado and gives me a drive to Pine River. We have coffee at a café and when she drives away I am sorry to see her go. She's having a big garage sale in the summer and moving stuff bit by bit to Pine River and I want to be here to give her a hand. I walk until I am really tired but the campground is chock full: Father's Day. The woman behind the counter thinks for a bit and then says she can offer me a remote spot by a brook. I say, "great," because I am filthy and my clothes really stink, and a shower and session with a washing machine will be perfect. But then she wants $25 for the spot—me with no electric hook-up, no water hook-up, no vehicle. So I say thanks and shove off. Just down the road there's a small golf course and the guy says sure when I ask about staying the night and I camp on downy green grass and suck back an Orange Crush. There's WIFI in the air, the evening is lovely and I learn the moon is out in a still blue sky here and at the same time in a darker sky in Halifax. I think of the great song "Shore Leave" by Tom Waitts and the lines
I wondered how the same moon outside
over this Chinatown fair
could look down on Illinois
and find you there
and you know I love you Baby
June 20 Day 51
19.62 miles (31.58 kms)
Fifty Lakes to east of Aitkin Park, Minnesota
Mairzy doats and dozy doats and liddle lamzy divey
A kiddley divey too, wouldn't you?
It is the third anniversary of my mother's death. I walk towards the town of Emily and there is a laundromat like from a dream. It costs $2.50 to wash, but it is perfectly clean, the machines are new, there's a nice bathroom, and a change machine and pop machine and piles of magazines.
With clean clothes I walk into town and it is a charming place with buildings all made from a kit of giant Lincoln Logs. In Nova Scotia, on Mother's Day, and St. Patrick's Day (my mother's birthday) and June 20, I go out to the gentle, sweet Pine Hill Cemetery in Hubbards and pour a little rum on her grave. In Minnesota, on the road, I spread out a picnic on the cargo carrier, and the Barbie-size version of her lolls on a blanket and looks around in between stuffing her face. I have packed the wicker picnic basket we had when I was little: hard boiled eggs, salt and pepper with wax paper between the tops and bodies of the shakers. Actually, everything is wrapped in wax paper: dill pickles, even though the wax paper gets soggy, deviled ham sandwiches, tomatoes, cookies. Potato chips. My mother grunts appreciatively as she paws through the food. She comes upon the hip flask of Captain Morgan's Amber Rum and looks up at me, really happy. "I hope you don't think you're having any," she says with a fake sneer on her face. Of course I'm not.
So I trundle along and my mother wants to stay at the Y Knot Ranch Motel, which is very small and cute and yellow. I am tempted myself, but we decide the day really is nice and roll on. I am thinking about the things I should have done for my mother before she died. The things I should have said. Like: "Mom, you look great."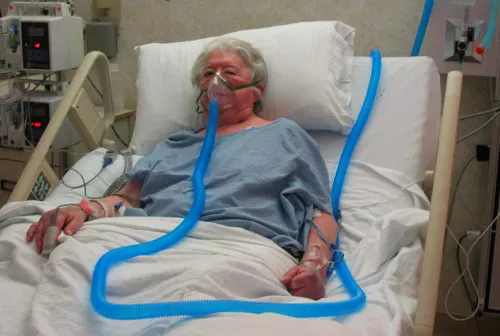 She was in hospital for three weeks before she died, and the steroids they gave her puffed up her face so the sagging ancient basset-hound wrinkles she had disappeared. I should have brought in a mirror for her to see. I should have told her. I think about many things like that. My mother is scarfing down sandwiches (cut in quarters, crusts off) and getting through the rum just fine on her own. She is so happy to be sniffing pine trees. I have to tell her now, and I come up with a list of ten things, but I can only get out the first one. "You did a good job," I say, and that's all I can say.
In the evening I am dog tired and sweaty and hot and bothered. I stop at a farm and the guy invites me in where small wheezing pug dogs surround me. He says it's fine with him if I camp on the lawn, and gets his wife, who comes out sucking back a can of Coke. It's ok with her too. No Coke for Janie.
So I put up my tent and sit, trying to cool off and after a while the woman comes out and says she'll show me how her horse loves Coke (but refuses a Dr. Pepper). I say great and she goes in the house and gets a can of Coke and the horse slurps it back and makes funny faces while his tongue fizzes. No Coke for Janie.
An hour later, she comes out with a can of Coke and a plastic glass full of ice cubes shaped liked Vachon half-moon cakes. Coke for Janie.