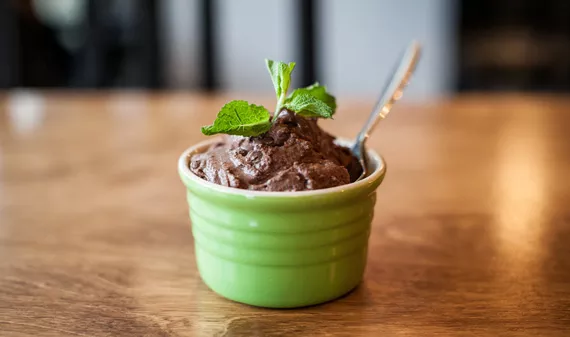 Serves 6-8
Ingredients
1 ¼ cup heavy cream
½ cup fancy cocoa
4 egg whites
3 tbsp white sugar
1 ½ cups Callebaut milk chocolate chips
2 tbsp brewed espresso
1 tbsp salted butter
2 egg yolks
1 tsp high quality vanilla
---
Method
Using an electric mixer, whip the heavy cream until smooth but try not to make it too thick. It should be silky, but not stiff. Add the cocoa to the whipped cream with a spatula. Again, you should mix well but keep the mixture light.
In a separate bowl, beat the egg whites with an electric mixer until stiff peaks form. Add the white sugar one tablespoon at a time during this process. It may feel slow, but it will help form the peaks.
Place the chocolate chips, espresso and butter in a large, microwave-safe bowl. Microwave on high for one minute or until the chocolate begins to melt. Remove and whisk briskly until smooth.
In a separate bow, beat the two leftover egg yolks and vanilla. Quickly whisk the yolks and vanilla into the chocolate mixture until smooth. Fold half of the cocoa whipped cream into the chocolate mixture. Do the same with half of the egg whites, and keep alternating with cocoa whipped cream until everything is mixed.
Leave the mousse in a large bowl for a communal-style dessert or spoon into serving bowls.
Place in the fridge overnight for the best results.