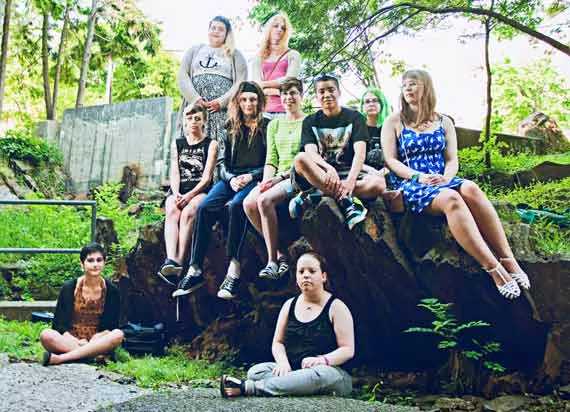 Pride began as a protest. Demands for political change brought together LGBTQIA activists who took to the streets of New York City 46 years ago. People in the community felt they were being treated poorly, especially by police and authority figures.
They'd had enough.
A riot broke out and eventually spread across the city. Millions of New Yorkers could be heard, shouting "gay power."
These days, we tend to approach so-called "gay pride" much differently. The mayor plays softball in drag. There's a dog show. Pride in Halifax, and elsewhere, is largely a party of positive vibes decked out in rainbow accessories. For two years, a local group called Rad Pride has been working to change that.
"Pride itself started because of a riot," says Harry Makohoniuk, who helps organize Rad events. "This is a way to bring it back down to a source of resistance."
For some, Halifax Pride and other celebrations in Canada are missing the mark. It may be that Pride's roots of struggle and intersectionality are getting buried. That's where Rad Pride comes in. The group is not directly associated with Halifax Pride, but it picks up some slack. "That's why we take to the streets and we don't ask for permission," says Makohoniuk. "It's not like a Pride parade where everything is happy and you can slap a rainbow Band-Aid on something to make it better."
Rad was formed in 2013 by Jude Ashburn and the South House Sexual and Gender Resource Centre. Their goals included addressing issues such as same-sex immigration, privilege, decolonizing pride, sex reassignment surgery and increasing accessibility.
Rad's main organizers fluctuate depending on who is available and active in the city. Totally run by volunteers, the organizers keep everyone on track while continually taking concerns and ideas from the rest of the group.
Along with Makohoniuk, Brittany Long and Cara Stringer are helping steer the ship—organizing and promoting events for those who may feel left out of other Pride celebrations.
One of Rad Pride's bigger annual events is the Dyke and Trans March. Long says the march emerged because "gay" tends to be seen as a sole identity, when it's actually more complex than that.
"You also experience every part of your identity at the same time," Long explains. "So, if you're queer or gay but also a woman; or if you're trans; or if you're disabled; or if you're a person of colour, you're going to experience your sexual orientation differently than you would if you are like, a middle-class white gay guy with children."
Des Adams has spoken at the march. He says Pride has faded into "pinkwashing," when there are still political issues to be dealt with. "One of the things that really bothers me today is this blood ban that we still have," says Adams, referring to the fact that men who have sex with men aren't allowed to donate blood in Canada. It stems from a fear of spreading HIV/AIDS. The rule can also apply to a woman who's slept with a bi man, who in turn has slept with men before. Although the ban has been criticized, not much has changed.
"That's something that's not really talked about a lot," says Adams.
Adams also is critical of how the Pride parade has become corporate rather than representational. "When I see the parade I see a bunch of corporations and companies that are pretty much just putting rainbows next to their logo and driving their car through," he says. "It's boring."
Stringer agrees.
"There's a lot more to queer events and queer spaces than just like, consumerism and money," says the first-time Rad organizer. Companies "are looking for that to profit off of."
Halifax Pride was criticized on this very topic following its event launch. Sponsor TD bank put its logo on the green stripe of the rainbow flags that were handed out. Then came questions on social media regarding Halifax Pride's promotional video. Egg Films, the studio which put together the video, has reportedly locked out unionized workers.
Halifax Pride released a statement about Egg Films, saying: "Our committee was unaware of the current labour dispute when we began this partnership; since learning of this, we have taken time to discuss our position moving forward into the 2015 Festival."
Pride is listening to the feedback.
"At some point, I do hope that we can sit down with [TD] and actually have a meaningful conversation," says Halifax Pride chair Willem Blois. "We can invite them to learn more about our community and sort of tell them, 'These are some sensitivities that our community has.'"
Blois realizes some people don't want corporations to be involved with Pride at all, but feels that's a tall order. "We can't exist without sponsors. But I think there's merit in having some mindful sponsorship."
Regardless, Blois and Pride are trying to take the criticism in stride. He says he sees the importance of Rad Pride, and Halifax Pride wants to support it.
"They're planning awesome events," says Blois. "They're serving a portion of the community that is not being served by our board right now."
Pride is still trying, though. The organizers will pay tribute to their roots this year with a heritage gathering on Gottingen Street. It's an opportunity for community members to showcase what they want to see in Pride.
"That's kind of our first stab at it," says Blois. "We don't have a huge activist background on our board."
Rad Pride and other local LGBTQIA groups are invited.
"I hope people will notice our renewed effort to be inclusive," says Blois. "We've tried so hard to reach out to anyone we can possibly think of."
Rad does have a political focus, but the group understands there is a place for celebration in Pride as well. The group is also promoting social and community events, like their "speed greeting" platonic speed dating for LGBTQIA individuals who want to meet others in their community. They'll also be hosting a barbecue at South House and a coffeehouse at Just Us.
"There's kind of this idea that the only way you can meet other queer people is online or at bars," says Brittany Long. "That is not acceptable. We can make our own space."
Harry Makohoniuk stresses that there's nothing wrong with partying—but Rad Pride is another option.
"It's not exclusive," says Makohoniuk. "It's just additional, or an alternative."
Perhaps it's possible for celebration and political action to be reconciled at Pride. Halifax Pride doesn't need to ditch the parties, as long as Rad Pride is there to balance it out.
"A group of people from the city, from all walks of life are just coming together to do this," says Makohoniuk. "This is what we, collectively, all want to see."
Click Here for Rad Pride Events!