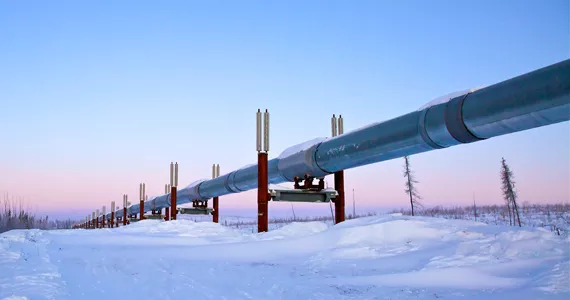 The tar sands may be 4,600 kilometres away, but they'll feel a lot closer should the proposed Energy East pipeline finally get built. The proposed TransCanada artery can carry over a million barrels of crude oil a day from the prairies to eastern Canada. But the cost may be too high.
TransCanada formally applied for federal approval of their $12-billion project earlier this fall. Unlike Keystone XL, which keeps getting rejected south of the border, all three federal parties in Canada (even the NDP) are behind Energy East. Opposition to the grand idea comes from smaller parties—the easily-ignored voices of farmers, First Nations communities and environmentalists who don't have millions to spend on public relations.
A few of those voices are Stop Energy East Halifax. The grassroots organization is leveraging local voices to try and stop a far-off project. Though it begins in Alberta, Energy East will end in Saint John. In other words, it's going to be our headache too. In New Brunswick alone, the pipeline will cross 900 waterways and watersheds, says SEEH's Kiki Wood. "The spill zone is huge," she says. "It's massive. The size of this pipeline—not only the length, but the size—puts the potential spill amount at nothing we've ever seen before."
Safety records for TransCanada's pipelines leave much to be desired. Its first Keystone line had 14 leaks in its first year of operation. The company has had three "catastrophic failures" this year alone. One of those occurred in a Manitoba line which will be used for Energy East. A million litres of crude oil could spill from Energy East in 10 minutes, Wood says.
Meanwhile, resistance groups against the project have sprung up across the country. That's useful, considering provincial governments have buckled. Ontario and Quebec initially proposed tight constrictions to limit greenhouse gas emissions from Energy East (which one think tank projects will spew 32 million extra tonnes into Canada's air).
But the two provinces have since lost their nerve, and claimed those restrictions are only for work in building the pipeline itself, not the "upstream emissions" that will come from the sands. New Brunswick, owned and operated by the Irvings, has obviously been even quieter.
It should be noted, the oil companies are reeling right now as prices hit a five-year low. Aside from throwing the general Canadian economy into panic, that also impacts the tar sands. Bitumen is not easy or cheap to extract. Energy East will be a big investment in the tar sands' future, but it's unlikely much of the oil will stay in Canada. The Alberta Federation of Labour estimates one million of the pipeline's 1.1 million daily barrels of crude are likely for export. TransCanada is planning two tanker terminals, one in Saint John, which will ship all that black gold out of the country for refinement.
Ecologically, maybe even economically, the Energy East pipeline will likely be disastrous. Critical voices like Kiki Wood haven't given up hope, though, that the pipeline idea will remain buried. Whether it's built or not, debate like this around energy is exactly what Canada needs as the nation sinks further down into the oil sands.