click to enlarge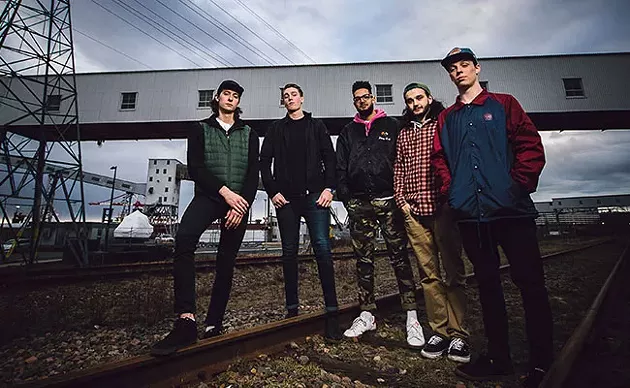 OVAV video/EP release w/Dirt Stache, Cringeworthy and Last Call Chernobyl
Friday, August 18, 6:30pm
Plan B, 2180 Gottingen Street
$7
The post-hardcore band OVAV formed when its five members were still teenagers. Now in their early and mid-20s, the music they make—propulsive, dynamic, dark and heartfelt—has grown with them. The new single "A Reflection," part of a split EP with Dirt Stache out Friday, ends with the lament "Always confused, broken and bruised/ It astounds me to this day what your promises have done."
"We thought that this might be the one that catches people," says bassist Ryan Mason of the track. "It speaks to certain demographics. People are becoming more and more open about mental illness, and the song kind of carries that tune."
OVAV wanted a video that supported the song's ideas while also standing on its own visually. The band—Mason, singer Connor MacEwen, drummer Hayden Mactavish and guitarists Nick Briggs and Luke Peters—tapped friend Matthew Jeannotte to helm "A Reflection." Though it was still in the editing bay at press time, it will make its world debut at Plan B on Friday.
"We wrote it out like it was a movie, tailored to the song itself," says Jeannotte, a content creator with the new company Blue Sail Media who also works in the industry as a technician, including on The Mist and Pure. Dario Argento was an influence; Jeannotte calls the video "an homage to '70s and '80s horror film." (The band, other than Briggs as a monster, does not appear.) "It's all in-camera practical effects, shot on next-to-no budget," he says. "We made it through connections in the industry and people helping out and chipping in on it."
"If we didn't have people like that," says Mason, "it would've been an extremely expensive endeavour for a local band."
The shoot took place over a weekend in the forest of Shubie Park. It's about "a female warrior, overcoming this monster, but it's more her own personal monster," says Jeannotte. "The things she tackles in the video are her own issues. I didn't want it to be like a bummer, or too zombie-fied. It's like she was saying, 'I'm ready to tackle what it is to be tackled.' It's a point of strength—being ready to face such problems in your life."
"We wanted a weird video but with the same underlying message of the song," says Mason. "You're mesmerized by the visuals, but you'll hear the lyrics and be like, 'Wow there's some content here.' When I was growing up and I got into hardcore, that was why—I thought it had more relatable content than other styles of music."