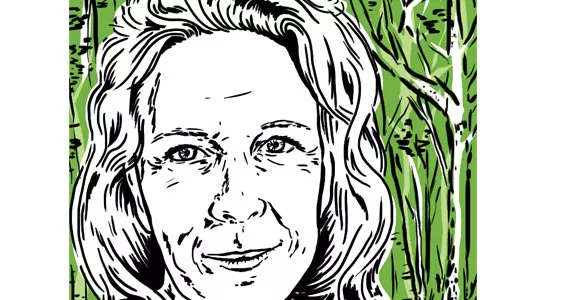 Sue Goyette, whose outskirts has won three significant poetry prizes this year, exhales pearls of wisdom like they're commonplace. "I drive my kids crazy with this stuff," she says when I tell her she speaks in verse.
Goyette is an environmental poet. Not to pigeonhole her. By environment I mean our habitat, surroundings, home and context. Her work explores, with probing depth and profundity, how we interact with that context and place we rely on for our lives. That includes relationships with other animals, plants, water, air, technology and people.These aren't typical nature poems. They revere and warn with an emotional impact no columnist can match. But she's no preacher.
"As soon as you sound preachy it comes across as arrogance and is off-putting," she says. "When the environmental movement started, my generation felt like bad teenagers. We're all in this together."
Goyette sees herself more as a poetic science reporter. "Biology is where most of our metaphors come from," she says. "And it's a fact that a monoculture of almond trees in California is killing bees."
When Goyette writes about such things, her goal is to instigate curiosity. She trusts not only her readers, but also her poems. "Our art is smarter than we are," she says. "I'm loyal to the poem, not its biography. I let it move and I follow it."
Poetry leads Goyette across terrains of darkness, light, fear and humour, and she's awestruck. "My job is to remind people how awesome this place is," she says, recalling the work of Matsuo Basho, the 17th-century Japanese poet. Basho's student made a haiku about removing wings from a dragonfly. He rewrote it as: "Red pepper pods/add wings/they are dragonflies."
With the right metaphor, we are astonished by nature without shattering it. "Investigating goodness and vitality," Goyette says. But in a threatened world, an honest observer must sometimes be bleak. Goyette strives for balance between good and bad. Both are abundant. "Imbalance is inauthentic," she says.
But is poetry infused with environmental themes activism? "Making art is the original Occupy," Goyette says. As a Dalhousie professor of poetry, she adds, "My students are political because they're taking creative writing in a university setting. I'm fiercely happy they're there."
Goyette recalls how notorious artists have taken on politics with stunning effects, telling me of a tense standoff between Mexican protestors and cops. A woman wearing angel wings, washing the flag, walked between them. "Everyone stopped and watched her," Goyette says.
While art is an inherently political act, that doesn't mean Goyette wants a world run by poets. "They'd be great leaders, except they'd get distracted by birds," she says. But she sees an abundance of leadership outside the political sphere. "Halifax is a great city with a low ceiling of government. They're like a parent at a great party."
When Goyette talks of a more sustainable future, it's a poem: "Artists are warriors in our time/little stanzas of movement/a tidal wave of change/community is our next revolution."
So, were I to coax Goyette into preaching, what needs to happen for that revolution to succeed? "Everyone on Earth has to be an activist if they know what's going on. Activism is how we buy our food, how we get around or make our living." On the latter, she paraphrases Peruvian-American author Carlos Castaneda: "All paths lead nowhere. Choose one with heart."
And once on it, make space for silence, an integral part of poetry. It is counterintuitive in an age when artists, activists and businesspeople are incessantly branding themselves via social media. "Brand counters art," Goyette says. At her readings, she invites the audience not to clap, to sit with a poem and its pauses.
Goyette notes performance artist Marina Abramovic, who spent 750 hours sitting in silence, facing visitors who'd lined up for hours to see her at New York's Museum of Modern Art. People wept in her presence. For Goyette, it's the uncomfortable interaction between word and silence that builds our understanding of the world, our place in it.
Chris Benjamin is the award-winning author of Eco-Innovators: Sustainability in Atlantic Canada, and the novel Drive-by Saviours.