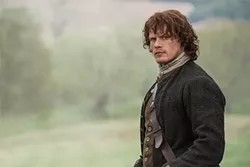 Diana Gabaldon in Halifax
Wednesday, May 3 at 7:30pm
Rebecca Cohn Auditorium
$23
Diana Gabaldon
is the superstar author of the addictive #1 New York
Times
bestselling
Outlander
series, the story a mix of historical fiction, romance, sci-fi, mystery, fantasy, adventure and general hotness. Gabaldon is coming to Halifax thanks to the
Bookmark
, and will be at the Rebecca Cohn Auditorium on May 3 for a reading, Q&A and a book signing.
My very own mother is an
Outlander
superfan (of both the books and of the TV series) and often laments Droughtlander season (I guess the excruciating time period in between seasons?) loudly and often.
She regularly says "canna" not even ironically.
I got her to make a list of 5 reasons that she loves these books more than she loves me.
1 . Jamie ('nuff said—hot Scot in a kilt).
2. I love the language and the sheer elegance of the scenery, I also love the references to the ways of old—from Claire's work as a healer, and the extraordinary attention to detail that Diana Gabaldon put into each chapter... couldn't put it down!
3. The intricate and compelling work of "time travel" within the writing—you had to pay attention or you'd get lost, but it was a joy to read and kept me invested in all the characters.
4. The mystery of the stones and their subtle magick that only a few could understand, the subtle references to those early days of wise women and the mysteries they knew intimately—the kenning women.
5. The love story that captivates you in spite of yourself and the war that rages in the reader as to which "side" you find yourself on—with Jamie and then again with Frank. It's a brilliantly crafted book of imagery and lots of colour. I found I "couldn'a" wait to read the next.
BONUS: The books also hold a special place for me as I can claim (we can claim) the Mackenzie heritage through my Mum, so it was a real treat to read it.
There you have it. I'm basically an Outlander.
Tickets for the event are available now at the Rebecca Cohn Box Office, at Dalhousie Arts Centre Online
www.dal.ca/artscentre/
or at the Bookmark at 5686 Spring Garden Road. For more information, please contact Bookmark at 902-423-0419 or e-mail at halifax@bookmarkreads.ca.