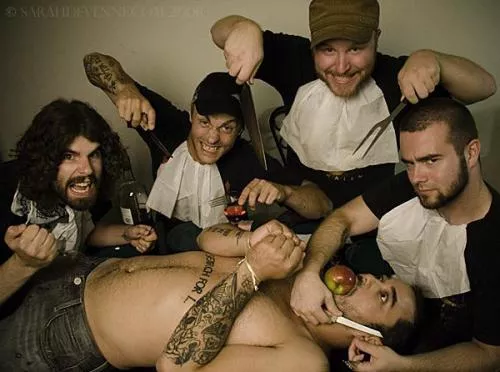 orchid's curse eat the rich
After a summer chewing up the road on Vans Warped Tour, Last Call Chernobyl take the stage this Saturday at Coconut Grove with Black Moor supporting their buddies Orchid's Curse, who are celebrating the release of their latest album Voices: The Tales of Broken Men. We asked LCC bassist Jay Szetzo if they had any stories from touring across the United States—-and, well, did you know they almost died?
Szetzo: "We arrived in California two days before our first show. We decided to hit the beach. Being from the East Coast, we were extremely loud and obnoxious. However our drummer (Josh Pellerine) and I started realizing that the undertow is surprisingly strong. Then we looked back at the locals and noticed that we were the only ones in neck-high water. We started pacing back to the beach as the undertow was getting extremely hard to fight. By the time I found my glasses on the beach, our singer (Kyle Mahar) and guitarist (Matthew Moulton) were mere dots in the distance fighting for their lives in the Pacific."
"Before I knew it Baywatch-esque lifeguards were swinging into action. A chopper and boat appeared out of nowhere. The whole beach was in a commotion as they all tried to fish out my drowning guitarist and singer. One of the Baywatch lifeguards managed to get them before the chopper or boat. With our heads in shame after such a commotion, we left the beach. We thought our little Cinderella story was going up in smoke and we'd be sending two bodies back…Weird, huh?"
Orchid's Curse lead singer and Diminished Fifth Records owner/promoter/publicist/Jack of all trades Josh Hogan was on the road with LCC as tour manager and shared his strangest quote of the tour, from a Canadian Border Guard upon the band's re-entry to Canada:
"Do you have any Weed on you? Wait a second, you're all Canadian. You wouldn't bring back US weed. It's too expensive and it tastes like shit!"
You can catch up and hear stories of more harrowing times and hear some excellent heavy music on Saturday at Coconut Grove beginning at 10pm, for $8.