Exhibit 304, RBC Waterside Centre, 1871 Upper Water Street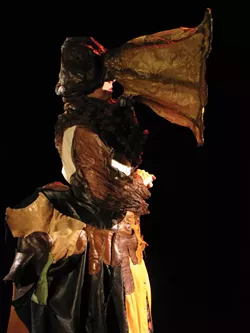 This interactive opera will require audience participation: A collaboration between performer Janice Isabel Jackson and visual artist Arianne Pollet-Brannen, Opera from Scrap is a durational performance whereby an opera, a character and a costume will be constructed out of scraps throughout the night.
In transforming into her character, Jackson will improvise songs based on her surroundings, absorbing and articulating everything from bird song to audio recordings to audience suggestions. Spectators can add thoughts, words and melodies by writing them on scraps of paper or fabric or tweeting her at @jacksonewmusic. Pollet-Brannen, a maestro of wearable art, will gather the scraps and sew them onto Jackson, building a patchwork ensemble with the audience's help.
"Nocturne is a night," says Jackson, where audiences "are able to get up close and personal with the artists and art works which are an integral part of the fabric of our community. Opera from Scrap takes this one step further...the artist is actually singing, wearing, and creating a story from the words and stories of the audience."
At 11:15, Jackson's metamorphosis will be complete, vanishing into the character she and audience members have created. At this time, visitors can return to witness the fruits of their labour. Jackson and Pollet-Brannen hope this form of participation will give audience members a sense of ownership—that they are co-authors, collaborators and co-conspirators in the creation of this work.