So I'm home now, and Bonnaroo is already old news, and I'm already jealous of everyone who got to go to Toronto and see Iggy Pop. But there is a final day to discuss, and after 24 hours of sleep, sucking on my first cup of Java Blend in two weeks (oh my god, where have you been my whole life?) and finishing the last of a crappy pack of American Parliaments, I feel ready. Some final points:
- Weezer actually didn't sound half bad (we caught a teeny bit of their set and could hear them all the way back at our tent.) They played a lot of old stuff and even "El Scorcho." I think they got the memo that most of their new music is garbage. I would say it's definitely worth standing outside the Common this summer to watch/hear a bit of 'em when they come here in July. It was kind of nice.
- I am still baffled as to why the Dave Matthews Band was headlining the Sunday night main stage. Phoenix wrapped up (as our Oklahoma neighbour said, "Phoenix are gay, and will make you feel gay and completely perfect") and we were all pumped. We were finally used to the heat and we had tons of beer left and awwwwwright! Let's go party - to Dave Matthews Band.
There were no other options, musically, so we trudged down with our few remaining neighbours, including an intense juicehead/my new favorite person who funneled some Malibu rum, squeezed my arm really hard while telling me about his job in Atlanta in car sales, and then vomited twice on the walk to the main stage, wiping his mouth and telling us to "Come join the mosh pit, ya'll!" There was no mosh pit. He then disappeared for the rest of the night.
Here is the juicehead at the campsite, immediately after the Malibu shot, showing us how he could pump iron against a gorgeous sunset. This, folks, is America:
We sat down and noticed a steady stream of people leaving. People looked bored and tired. Really, Bonnaroo? Couldn't you get someone to close 2010 with a bang? Even the Dave fans we were with admitted he was kind of irrelevant now. To clean our systems, we returned to the site and Sue blasted Motorhead on her car stereo. Our company quickly departed.
- In terms of meeting new American friends, this has been the best Bonnaroo ever. I was surprised how seeing Jay-Z took a backseat to sharing cigarettes and talking about Canned Heat with fun little guys from Michigan, or just walking around and talking to the people camping in an ambulance, or saying hello to nice cops on horseback (it's true. They were nice!) I had the most fun in that regard. I wish I had seen more bands (I heard Tori Amos and Tenacious D were really good, for example) but I heard lots of great stories.
- Another amazing thing was seeing my traveling companion, Runaround Sue, experience her first major festival. She was like a kid in a candy store. The icing on the cake was when she got to stand up front and center for her favorite band in the world Against Me! on Sunday afternoon. Here she is at the front of the stage. The heat was unbearable, everyone around us stank, the college brahs were out in full force, and this girl is still so giddy she can't see straight. How excited is she?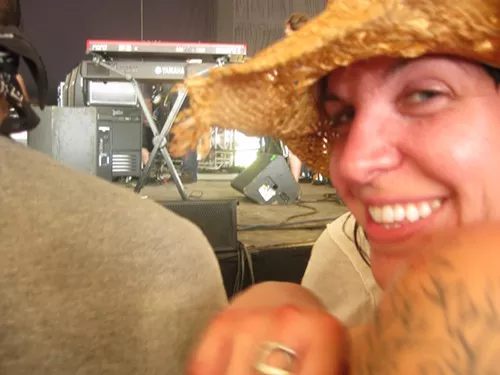 Then the band actually came on and suddenly I could see why everyone likes Against Me! so much (I am, admittedly, not a huge fan of theirs.)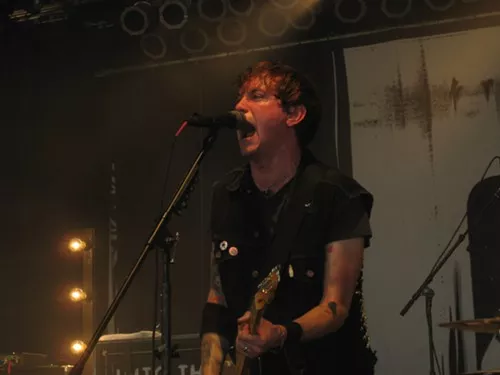 Tom Gabel was all smiles the whole set as everyone screamed the lyrics to every song back at him. I slithered out from the mosh pit early on and captured Runaround Sue as she emerged an hour later. She still had Gwar blood in her hair and it was spilling down on her face. Her expression is the same expression all of you had the first time you saw your absolute favorite band in the world up close and it was everything you ever wanted. Remember that feeling? It's the best thing in the world!
I kind of really love her. Like, a lot.
Then she met then and got her "White Crosses" record signed:
If nothing else, Bonnaroo made me remember why music is still exciting and great. In 30+ degree weather, the bands we saw (for the most part) played their best and the attendees reflected this enthusiasm back through moshing, sweating, choke holds and good old fashioned southern love. It's going to be my last Bonnaroo - I'm too old and it's too damn hot - but it was the most fun I've had in a long time and I already miss it dearly.
Footnote: For the ladies of the Coast, I'm going to post photos of Joan Jett's Jaguar, which I was fortunate enough to see at the Rock and Roll Hall of Fame in Cleveland. I thought of ya'll the entire time I was there. Imma get one of these and we'll go Thelma and Louise all the way back there someday.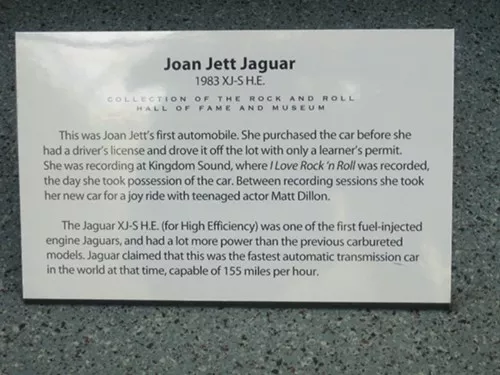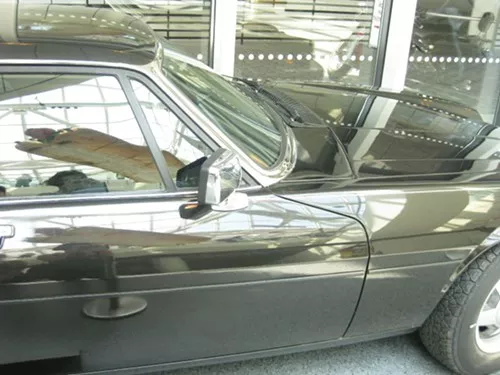 God, but I love rock n' roll.