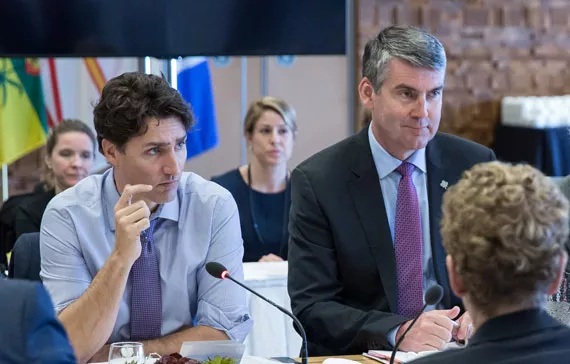 Earlier this month premier Stephen McNeil joined other Canadian premiers on the other side of the country for the much-publicized first ministers conference in Vancouver with prime minister Justin Trudeau. Those meetings covered such environment-related topics as climate change and carbon pricing, and were meant to lay the foundation for a national climate strategy. The resulting Vancouver declaration is essentially a blueprint on how to keep moving toward a national climate strategy. But while there's agreement on battling global warming, there wasn't much consensus in the premiers' group regarding carbon pricing. The Nova Scotia government has said it isn't interested in introducing a stand-alone carbon tax here.
McNeil, 51, has now been leader of the provincial Liberal party for almost nine years and premier of Nova Scotia since October 2013. While his government has faced criticism over several policy decisions in the last three years, the latest quarterly survey results from Corporate Research Associates still show the Liberals well ahead of their party rivals in the polls.
In the wake of the Vancouver first ministers meeting, McNeil spoke with The Coast about the conference and what—if anything—was achieved.
———
The news headlines and reports out of Vancouver about a carbon-pricing plan were about as clear as mud. What's your take on what transpired during your talks in BC, and what exactly was achieved?
There was a consensus on moving forward, and meeting the federal government's commitment post-Paris [climate summit] around reducing our carbon footprint. We have struck a couple of committees that will look at what are the different carbon-pricing mechanisms that are available—they're already starting to work in some parts of the country—and lay out what are the options. Each part of the country and each province is doing it a bit differently, and the government has committed to saying, that providing we can meet our commitment to carbon reduction, they can work within that framework.
Other provinces are on board with carbon pricing but Nova Scotia is not. What's wrong with implementing a carbon tax?
We have a carbon price already embedded into our electricity rates now. We have the most expensive electricity in the country, and part of that is because of our investment in renewables—the sole purpose of that was the reduction of our carbon footprint, to get us off coal-fired energy. We had a competent program that was working and which provided fairly expensive renewable energy, but allowed us to reduce our coal output...I might add we are leading the country in terms of our [greenhouse gas] reductions.
But if we pay a tipping fee to toss trash in a regional garbage dump, why shouldn't we adopt a distinct polluter-pay system as an incentive to help fight climate change?
We as a region, through successive public-policy decisions by successive governments, went down the road of dealing with our issue in a different way. And that was investing in the infrastructure, and the cost is embedded into the price of what we do for energy. Quite frankly, we're having success at it. And we've made a commitment to continue down that road, [which] could allow us to get to a zero carbon footprint in the region, providing we capitalize on the renewable energy assets that we have.
What sort of global warming-related things are the provinces seeking federal money for?
Part of that programming has not been announced yet. So that will become part of the upcoming budget. They have talked about investment in green energy and green initiatives. They've talked about [energy] efficiency programs. Once we get a full list of what's actually available there, then, like all provinces, we'll put them in as part of our planning. Whether it's an investment in infrastructure in the province, or in some cases it will be municipalities that will meet directly with the national government on transit and a few other things that are specifically targeted towards our major cities.
In your opinion, what's the biggest challenge, or largest obstacle, that this province's economy is facing right now?
The largest obstacle we're facing is population [decline]. We need people. I think that's one of the things we've worked extremely hard at—we doubled our [immigrant] nominees last year. We need to continue to grow that, but we need people. Our economy needs people, our communities need people. We need the innovation and ingenuity of those people to drive job growth and opportunity.
You're the provincial minister for aboriginal affairs. How often do you meet face-to-face with Nova Scotia's native leaders?
They meet with us directly as a cabinet twice a year. I would meet with [aboriginal chiefs] at different times, and individually. I recently met with one of them, specifically about an issue in their community. When I'm in a particular part of the province I will try to meet with the chiefs, and I try to get to their home communities. But as an executive council, we meet with all chiefs twice a year, as a group.
Students attending our universities pay some of the highest tuition fees in the country, and many graduates will be saddled with crippling debt. What do you have to say about that?
We've worked extremely hard to ensure that not only do we continue to have a top-quality, post-secondary education system, which is attracting 20,000 students from not only across Canada, but globally, to our province, but that we have one that is sustainable. We made some changes where we will not be charging interest on student loans for those in Nova Scotia. If you complete your degree in four years and find employment here, we forgive that portion of your student loan. There's no question that investment [in higher education] is difficult for some families. We're now moving towards how do we make sure that we provide an economic opportunity for those students in Nova Scotia. That's why we do the Graduate to Opportunity program, where we're addressing upfront the cost of hiring a university or community college student—helping employers to do that—so that young people can get that opportunity to find their first level of employment here.
This is a municipal election year, but what's the likelihood of a provincial election happening as early as this fall?
I continue to think about governing—I haven't thought about when the next election will be. I'm looking forward to tabling our budget and having it debated and getting out and talking to Nova Scotians.