I am The Coast's eyes and ears on the street at the Vancouver Olympics. Over the course of the next few weeks I am aiming to blog about everything you can't get on through the tube, the sports pages or twitter: the feeling on the ground, the people, the venues, the culture, the nightlife, the Nova Scotian presence. I welcome any suggestions or questions you may have relating to the Olympics.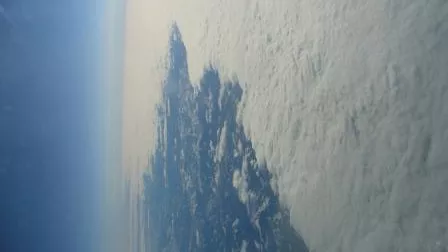 Crossing the Rockies on the way to the 2010 Vancouver Olympics
My Olympic experience began as well as I could have hoped: sitting between a girl of Irish-Swedish heritage and a jovial Newfoundlander on an early morning, west-bound plane. Both of my rowmates were heading to BC to be Olympic volunteers: the first in Whistler and the latter deep within the Vancouver fray. Frantic time spent getting my affairs in order so I could bounce out west for a month meant I was admittedly disconnected to what it would be like and the significance of being at the world's largest winter sporting event. For me the hype had been background noise; the event itself a series of blocked off days on my calendar. Not until this point had inklings of the scale and importance of this event entered my psyche: much of this plane was populated with travellers committed enough to pay money out-of-pocket (in most cases obscene amounts) to be a part of this "once in a lifetime" event.
The young lady, who is studying to be a vet, took a second job serving tables in order to pay for this trip and had rented a chalet in Whistler where she would be reuniting with friends she had not seen in years. The Newfie fellow was volunteering to show his support to Canada because "so many others had sacrificed so much" and it was the least he could do. I found their motivations for going: she to party with old friends and he to repay a debt to nationalist ideology a good fit for each.
Upon arriving at the slippery-clean zoo that was Vancouver's airport and I bid adieu to new friends but promised to head up to Whistler in a week to hang out for a couple of days and explore that Olympic venue.
The Athletes' Village, like the Canada Line, was developed for the Olympics. Unlike the Canada Line it will not be available for use by low-income families after the Olympics.
After hustling to the new Canada Line (wonderfully connected to the airport in a convenient transport hub: hint hint Halifax) I struck up a conversation with a self-proclaimed anarchist who was returning from India and planned to be a part of "the riot" that he said would take place on the 13th. To this end he had bought a Russian Cold War era army surplus gas mask that he claimed could allow him to breathe in a chemical gas cloud for "at least 24 hours" and therefore could allow him to withstand "anything the cops could muster". I asked him what exactly he was protesting and he included elements of nationalism, corporatism, environmentalism, affordable housing issues and aboriginal justice issues.
After moving the conversation to Primus records, next to where in India he got his Powell-Peralta reissue skate deck he told me of his dreams of farming in the future. He got off the Canada Line to head to East Van to join the logistics community, which is the organizing element of the anarchists here in Vancouver, to prepare for his anti-Olympics. I told him to be safe. He returned the wish in kind.
Yesterday as pockets of violent protest emerged in Vancouver I caught a glimpse of a militant protester on the news in a bright green gas mask and wondered if it was the same young anarchist I had discussed Wounded Knee and WWOOFing with.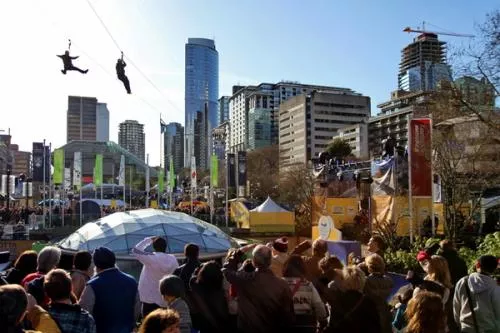 Olympics Day 3, Robson Square: 15 degrees Celsius. Dozens salute the bravery of freestyle zip liners.
Since that time I have spent a considerable amount of time circulating around Olympic associated venues and meeting friends from every part of the world. The venues are polished to a show room shine, everything is branded to the point of sensory overload and the by my calculations the tented area in would have made a significant impact in fulfilling the needs of earthquake ravaged Haiti.
JP
"Centreville"="Securitytown": A small portion of the thousands of tents at these Olympics. These CCTV monitored state-of-the-art jobbies is where they make you take off your shoes.
At endless pavilions (Irish House, Deutsche Haus, Heineken House, Atalntic Canada House, etc.) and watering holes good cheer and overpriced alcohol flow liberally; meeting people has never been easier and my experience on the ground has been already allowed me to share moments with people I will probably never see again but will remember for a lifetime. If you have a smile and an opposable thumb to hold a bottle you can party (and party properly) at the Olympics. You just have to remember a few basic rules: everything costs more than it should or did a month ago; leave 4 hours earlier than you think you should for everything and; do now, regret later).
JP
In places pedestrian street traffic has increased from 2000 people a day to 10,000 people an hour. Rumour has it that after their Saturday night free show Wilco was able to crowd surf the entire 12 blocks back to their hotel.
Due to the sheer numbers of visitors to the city (which must number in the hundreds of thousands considering there are over 25,000 volunteers alone) I have discovered that at the Olympics it is impossible to do anything other than share your experiences with people you have never met whether the the runaway nightlife, places to sit in crowded restaurants, or at cultural events: people are here, they are happy to be here and they are looking to be engaged by other travelers and locals.
JP
The view from the Olympic Village is picturesque in a way that only BC can do it.
Perhaps the most poignantly illustrative example I have experienced was the collective stunned and unbroken silence that overcame a restaurant, packed to capacity, upon the airing of the news clip of the fatal accident that befell Georgian luger Nodar Kumaritashvili. Many of us toasted to him, his family and country knowing long before any official confirmation that we were toasting to an athlete dying young. Not long thereafter a Polish man sitting at the bar's elbow told myself and a small group of listeners of the time he had recently spent in Georgia describing it as a small country caught between two worlds, seeking to meet the "challenges of rapidly changing times".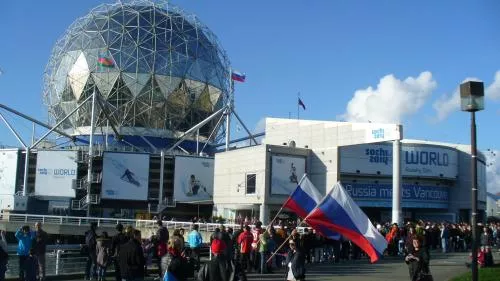 JP
Russian Pavilion: Putin maintains that new Russian state "historical research" shows that the geodesic dome (pictured) is a 1:1 scale of Sputnik, which of course, carried to space for the first time a dancing bear.
As I write this first blog entry on day 3 of these Vancouver Olympics, waiting for a friend to get off a shift at the Russian Pavillion, I feel I have finally come to understand the significance of this event as an event. Its gargantuan scale is staggering; it is a logistical leviathan that must certainly border on impossibility and it is truly an event that must be described as without parallel. I understand the motivations of the hundreds of thousands who have come from abroad to be here, now pushed by differing motivations towards the common goal: to be part of history that includes thousands of years, millions of people and countless memories.
But the Olympics, beyond the staging, as a gathering of humanity presents a different contextual scenario. Through almost not-stop activities, fun and interaction with people from everywhere people may live, I have learned this little bit: despite objections to these games, both valid and superfluous, anytime the world comes together under the banner of friendship and good will it should be seen as a occasion to celebrate our commonalities. Relative to the unbroken chain that is the entirety of human experience we are all transients to this place; to this time. Our world is a small and fragile one caught between a mythical past and a fractured future; and one that is struggling to meet the unprecedented "challenges of rapidly changing times".
When it comes to the Olympics it should be of little importance that we have come to compete but paramount that we have come to play together.