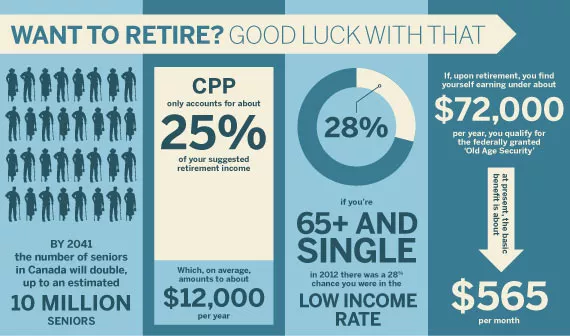 As we age, we become more concerned with the practical side of life, or so the story goes. Lo and behold, one day we realize that we're not going to live forever and suddenly all those little things associated with how to age, retire and ultimately die comfortably—things we used to put off and ignore—become our front-and-centre priorities. That, or like one third of Canadians, you're still counting on a lottery win as part of your retirement package.
Canadian senior citizens take election season seriously, and vote far more than any other demographic. Statistics suggest that historically Canadians also become more small "c" conservative with age. Courting the seniors' vote, whether out of earnest concern for our aging population or otherwise, is a key piece of the political maelstrom.
This impacts us greatly in Nova Scotia. Senior citizens make up the highest percentage of our population of any province in Canada—to an even greater degree outside of our urban centres. And as a country we are getting older.
"The problem is that in the next 26 years, the number of seniors in Canada will double, up to an estimated 10 million," says Irene Mathyssen, three-time NDP incumbent in the riding of London–Fanshawe and former shadow critic on the seniors portfolio. "Many boomers are in their 65th year and preparations should have started for them a long time ago."
Preparations for retirement, whether out of a sheer lack of financial opportunities or forgetfulness, is something we are generally not doing well. We're saving far less money than in the 1980s. In 2013, only 38 percent of us were covered by a registered pension plan. Basically, we're collectively counting on Big Brother to look after us in our old age.
The federal government provides a mixed-bag of financing for folks hoping to retire. First, there's the Canada Pension Plan. You might know it simply as something you contribute to on every pay stub. You might even be planning to retire on it someday.
But according to Angella MacEwen, senior economist with the Canadian Labour Congress, you should think seriously about that. MacEwen notes that the CPP only accounts for about 25 percent of your suggested retirement income, which, on average, amounts to "about $12,000 per year." That's far below the poverty line. Seniors in poverty, especially single seniors, are also on the rise.
"Up until the 1990s, we did a really good job in dramatically lowering poverty rate among seniors," says MacEwen. "But since the mid-'90s it's been on the rise again. Poverty rates vary whether or not you are single or in a family, but if you're over 65 and single, in 2012 there was a 28 percent chance you were in the low income rate."
Leading up to the election, the Conservatives have suggested that they will explore the potential of voluntary expansion of CPP contributions, towards something approaching a livable retirement income. They've also explored the option of privately-run, voluntary contribution-style pension plans.
This, say critics, is a direct contradiction of their pre-electoral rhetoric, when they repeatedly noted that supplementary contributions to the CPP would be unwieldy. And if—as our recessionary economic climate suggests—we simply don't have enough money to voluntarily contribute towards retirement, what does it matter if there's one more option we can't afford?
The Liberals also support refining the CPP towards accepting supplementary contributions. The NDP plan is to increase mandatory CPP contributions, albeit slightly.
"For someone in the top earning category, contributions to CPP will increase by about $3.85 a week," says Mathyssen. "When you start compounding that over 35 years, we could significantly increase payouts. We want to make sure folks have a good, solid CPP, because right now, it's not enough to live on."
If, upon retirement, you find yourself earning under about $72,000 per year, you qualify for the federally granted "Old Age Security" pension. Paid out monthly, at present, the basic benefit is about $565 per month.
Harper's Conservatives gave the Liberals and the NDP solid fodder for their election platforms when they announced in 2012 that as of 2023, age limits for accessing OAS would be gradually raised from 65 to 67. The position, says the NDP's Mathyssen, is not only economically unnecessary, but prioritizes balancing the budget on the backs of already-impoverished senior citizens.
"The position is ludicrous," says Mathyssen. "And it's not just me that says so. Kevin Page, the former Parliamentary Budget Officer, said the same thing at the time. We can afford to keep Old Age Security as is. There's no need to raise the accessibility."
"Even if Old Age Security was not sustainable, this pushback targets the most vulnerable," says Liberal seniors critic, Markham-Thornhill candidate John McCallum. "This isn't impacting people who are members of parliament. I mean we work, but it's not physical. Many in blue collar jobs might be worn out by the time they're 65. At that point, to be thrown onto welfare rolls; that is the worst possible way to do things."
"Not everybody can afford to, or is physically able to, work longer," agrees MacEwen.
"Income levels are also an indicator of different life expectancies. If you're on income assistance, you're more likely to die sooner. It's not really fair to push back the social safety net further or out of reach of people below the poverty line."
Added onto the OAS is the Guaranteed Income Supplement, a top-up for low-income seniors whose CPP and OAS income still keeps them below the poverty line. The Conservatives have also promised a push-back to accessing GIS, from 65 to 67. Both the Liberal and NDP platforms promise to reverse the pushback.
"We want to actually increase the GIS," says Mathyssen. "We're going to add in 400 million dollars over a four year period. We'll start by using Service Canada to find the seniors most in need and ramp it up from there. For 250,000 seniors living in poverty, it means that they're stuck. They can't afford public transit, they can't afford to go to a movie. Often they're skipping their meds. That's a miserable lifestyle. And it's not the thanks you give to people that worked so hard for their whole lives."