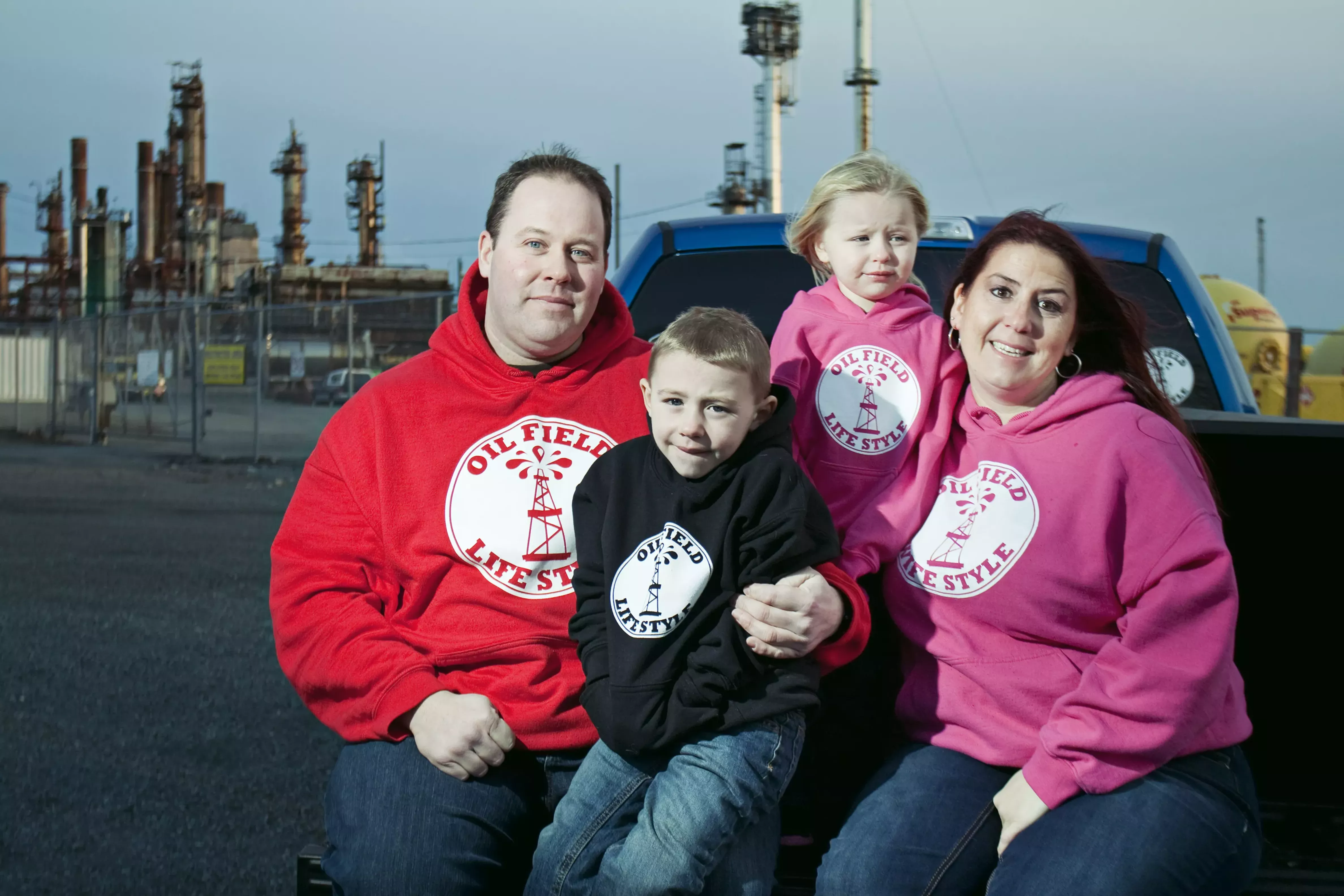 Wednesday doesn't exist for April Feener and Ben Smith's family. It's fly day. For the past three years, Smith's been working 14 days on, seven days off in Fort McMurray, flying to and from Halifax on Wednesdays while his two young kids wave to "daddy's plane." It's a lifestyle that he recognizes isn't for everyone, but he's proud of it.
"Two on, one off—that's our life," says Feener. "Most people wake up on Monday and have to get through to Friday, I wake up Thursday and have to get through two weeks." The couple made the choice to make a change in Smith's career—and their family—when their daughter was just six months old. After weighing the pros and cons, their goals of paying off debt and putting away some savings won over. Though it isn't always easy, they've adapted.
"It's all about finding out what works for us, figuring out a routine," she says. For them, the routine includes a lot of Skype and Facetime dates, making sure to keep in touch even about the littlest, seemingly unimportant goings on, staying busy and then cramming as much as possible into the window of time when they're together under the same roof. It was last spring when the couple decided to go into business together, launching a clothing line after a happy accident of a fashion statement. "My husband came up with the idea coming home on the plane," says Feener. "Looking at all of the people wearing East Coast Lifestyle and West Coast Lifestyle he thought, 'I'd like to have a shirt that represents what I do. I don't live either of those lifestyles.'"
It started with one t-shirt Smith had made for himself, branded similarly to the other incredibly popular Lifestyle shirts with Oilfield Lifestyle. Make that two t-shirts—Feener got herself one that read Oilfield Wifestyle that she'd rep with pride here at home in Halifax. On yet another Wednesday, Smith wore his shirt back to camp and thought nothing of it. Suddenly, his work buddies all wanted one too. Then it wasn't just his buddies. "When he started calling and saying 'so-and-so wants one,' I was like—we could be the next big thing!" says Feener. "It's kind of been my little pet project, that's one of the other key things to making this work is staying busy and keeping your mind off things. A lot of times they'll work 12-hour shifts out there, they don't take days off because it's pointless. You work and get back to your family as fast as you can."
She and Smith have since incorporated the business, launched a website and applied for trademarks. They use a local graphic designer, a local print shop and a local web host to make Oilfield Lifestyle work. Feener has also found a new circle of friends thanks to the brand, an oilfield support group for Nova Scotians with loved ones working away in the patch.
"You can't understand this life until you're in it," says Feener, who says despite the hard times, her family it incredibly proud of its life. "You do what you have to do for your family, and we've met so many people along the way doing it for different reasons. The community of the oilfield lifestyle is huge."