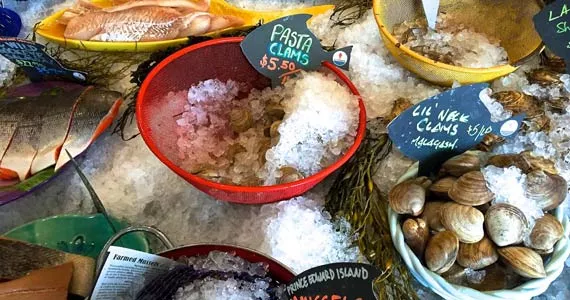 Owner of Agricola Street's Afishionado Fishmongers, Hana Nelson, has launched a cooking series teaming up with local chefs and businesses to educate Halifax on cooking local seafood. The Afishionado Chef's Series Cooking School hosted its first session last month, with Dan Vorstermans, chef and co-owner at Field Guide. The theme of Vorstermans' evening was the handling and preparation of raw seafood and fish.
This Tuesday, February 3, Nelson will host alongside Bishop's Cellar for an evening of oysters, wine pairings and shucking know-how at Lion & Bright. The following Tuesday (February 10), Frederic Tandy, owner of Ratinaud French Cuisine, will focus on other shellfish like clam and urchin, which can be intimidating for some. Both cooking school sessions will aim to provide easy ways to clean, handle and prepare seafood, says Nelson.
These classes are only the beginning, though. Nelson hopes to put them on every few weeks, and has already reached out to a handful of cooks, including The Canteen's Renée Lavallée, to run the upcoming classes. The chefs have creative liberty with their designated evening, says Nelson, and some will be more demonstrative while others will have more hands-on participation, depending on the venue and the chef.
Either way, "you get to eat what is being cooked and benefit from the expertise of these cooks."
---
Lion & Bright + Bishop's Cellar: Chef Series Cooking School
2534 Agricola Street, Tuesday February 3, 8-10pm, $60, tickets at Bishop's Cellar and Local Source