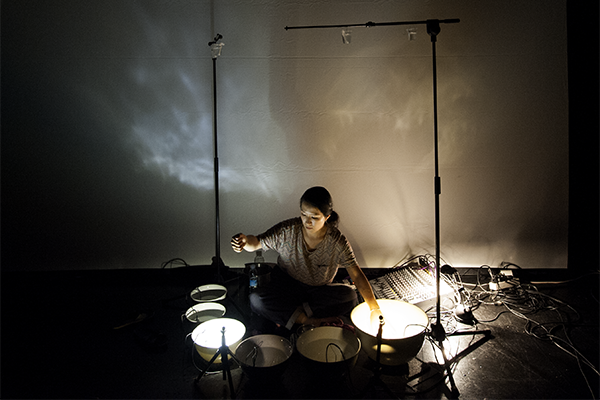 Flutters, loops, scrapes, ripples, drips and bubbles create worlds of lush, meditative sound with the work of Tomoko Sauvage. Her compositions can agitate or calm, expand and pull focus.

Born and raised in Yokohama, Sauvage moved to New York to study jazz piano and then to Paris, where she became interested in Indian music, specifically the jalatharangam. A traditional instrument made of water-filled porcelain bowls, Sauvage was "totally fascinated," she says. "I immediately started to hit any bowls I had in my kitchen, like rice bowls or salad bowls, then I bought some cheap bowls. My first prototype was a very cheap replication, then I bought a hydrophone—an underwater microphone—and it completely changed the characteristics of this instrument. I slowly evolved it and it's still evolving."
Now, Sauvage's set up is more precise. Her waterbowls are porcelain, made at a ceramic art residence in Limousin, France—a region known for white porcelain—which she precisely tunes with water. This invention creates otherworldly sound of unmistakeable elemental origin.
But with such finicky substances like water and sound waves, Sauvage's performances are intensely bespoke. "It's improvisation, not only in the musical way but in the moment, the architecture, the people in the room, the water, the evaporation, the humidity and temperature, when it's hot it evaporates quickly," says Sauvage. "Somehow I try to find a balance point of tuning everything—my instrument, but also the people. There are certain moments where I feel like the people there are also acting like an agent."
Sauvage must calculate possible discrepancies between an empty sound check and the difference with the audience in the room. "I use feedback, and it's really sensitive. The frequencies that can occur depend on the acoustics of the room," she says. "I'm now using lots of harmonics, overtones of these feedback frequencies, which are quite complex. There are many unpredictable elements in my music. If someone is standing on the speaker it changes completely the cycle of the feedback loop. If something interferes in this loop then it changes or it might produce a new overtones but also the water is evaporating and it actually radically changes the frequencies, everything is unstable."
This instability allows for improvisational magic. The unpredictability of the performances mean that every person in the room plays a part. The compositions are "slow to evolve." Feedback from drips, ripples and clangs mutate, build and loop back.
"I learned I shouldn't force my instrument. That doesn't make sense, I need to follow it—it's a dialogue," says Sauvage. "Somehow there's a moment where I feel the instrument and the element I'm playing with is living. It's not controllable, but something happens when I have a good conversation with them. It's really a balance between hazard and mastery."