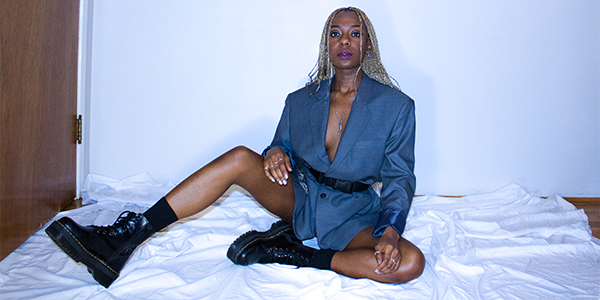 For Vancouver's Debby Friday, there's something natural about music that sounds distinctly non-human. As both a producer and a fan of noise music, she's drawn to the genre for the sense of humanity it expresses.

"We're using these electronic devices to make these electronic sounds that wouldn't exist without machines...and I just feel like it speaks to the messiness of the human experience," she says. "I actually find it to be a representation of both our organic and non-organic parts of our existence."
Friday's name has been blowing up since releasing her debut EP, the genre-spanning joyride Bitchpunk, last year; now on the heels of another EP and in the middle of an interdisciplinary MFA, she's been thinking about how noise speaks to human interiority and spirituality—to the very core of our being.
"I think it just has to do with human beings and the way that we are—we pretend like we're these neat, not messy boxes of identities and boxes of behaviours," she says. "But that's just not true! We're very messy, we're very complex, very complicated, and I think that noisy music speaks to that."
Friday—whose OBEY show also features Philadelphia's DJ Haram, who she dropped a new track with last week—says she thrives in a live environment. As a former a DJ herself, Friday knows how to get bodies moving. "I know that the type of music that I make incites feeling—whether it's negative, positive, whatever it is," she says. "I know I'm a very intense person, I know the music I make is intense and I know people feel something when I hear it, which is all I can ask for."