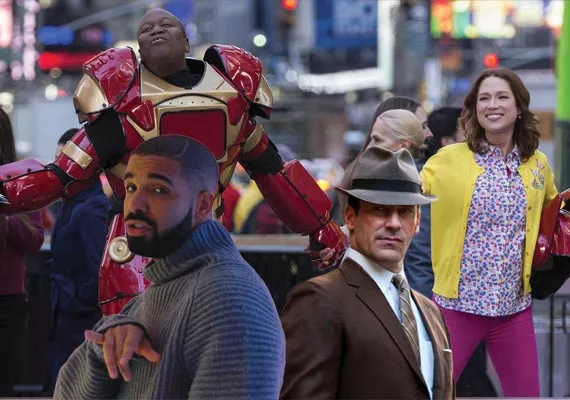 What are you doing New Year's Eve? The same thing you do every Thursday night: binge-watch shit you've mostly seen before. Save some money, avoid the crowds and enjoy a celebratory day-long rampage through various screens and A/V delivery services. Schedule bathroom breaks at your own personal rate of consumption and relief.
December 31, 12-1:12pm: Might as well watch the last episode of Mad Men finally, see what all the fuss is about. The second half of Season 7 is not on Netflix, so build yourself in some search-and-torrent time. This year has been so exhausting, hasn't it?
1:13pm: Thoughtful Facebook post about Matthew Weiner "skillfully weaving" his fake-ass "hero" into real life with that Coca-Cola shit. End with exclamatory appreciation of being alive in TV's golden age.
1:17-1:29pm: Check in on Comedy's annual/terrible Big Bang marathon, count the Bazingas. Resist the urge to throw it all away, create a Bazinga drinking game and die during a marathon of The Big Bang Theory.
1:30-2:57pm: Hit Netflix and cue up Tangerine, which takes place on Christmas Eve but in LA so it barely counts. This low-budget comedy is one of the year's best films, about a pair of transgender prostitutes on the hunt for a pimp. It's brash, funny and surprisingly poignant, like your stupid life.
2:58-3:15pm: Read movie blogs about how Tangerine was shot on an iPhone.
3:15-9:10pm: UN-breakable! It's a MIR-a-cle. UN-breakable!
9:11pm: Scream "I'm alive, dammit!" while eating cheeseball directly off the knife and watching NYE revellers toddle up your street in their spangles and seasonally inappropriate shoes and outerwear.
9:15-9:20pm: "Hotline Bling" dance break.
9:20-9:26pm: Scream the entirety of "Hello" into your cat's face.
9:30-9:53pm: Prepare for the confusing 2016 return of Gilmore Girls with the top 5 episode "They Shoot Gilmores, Don't They?" (Season 3, Episode 7), which is also about a 24-hour marathon (this one of dance) and ends with crying and the theme from Rocky.
9:54-10:55pm: Erase thoughts of John Mulaney's horrific sitcom foray with his latest stand-up special, The Comeback Kid. Remember laughter?
11pm-January 1, 1:01am: "Ironically" slog your way through the topical New Year's Eve and rank the actors' reasons for being in the movie, starting with Always Available (Lea Michele, Alyssa Milano) to They Backed A Dump Truck of Money Up to My House (De Niro) to Big in 2011 (Katherine Heigl, Ashton Kutcher, Jessica Biel) to Must Owe Garry Marshall Something Huge (Michelle Pfeiffer, Zac Efron, Sarah Jessica Parker). Don't even, like, notice the fireworks.
1:02-1:46am: Prepare for the confusing 2016 return of The X-Files with the top 5 episode "Home" (Season 4, Episode 2), a scary-funny fable about a trio of inbred brothers. Tweet factoid about how it's so intense Fox only aired it once, then not again until the show was about to go off the air, add haughtily "where it should have remained #realtalk" in an effort to see who else is up.
1:47-1:55am: "Hotline Bling" dance break, for circulation and because you're now officially worried the Peacock brothers are coming for you.
1:56-2:24am: Scroll through every Netflix category, stop and start Wet Hot American Summer (not the right mood), Nightcrawler (still too scared) and Kurt & Courtney (not as good as you remembered).
2:30am-sleep: UN-breakable! It's a MIR-a-cle. (Dammit.)