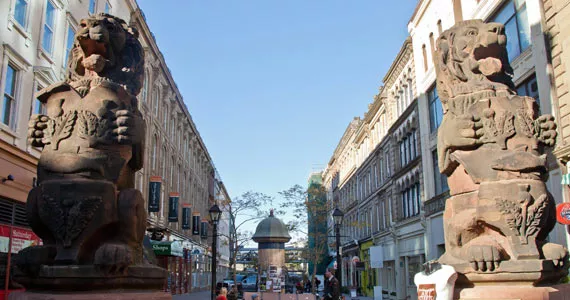 The Nova Scotia College of Art and Design has received a $3-million donation, courtesy of arts advocates and philanthropists Margaret and David Fountain.
The money will allow NSCAD to undertake a number of major improvements on its downtown Granville Street building, which is now renamed Fountain Campus in appreciation of the gift.
Margaret Fountain, who has been on NSCAD's Board of Governors for 14 years, spoke this afternoon at the university's Anna Leonowens Gallery about why it was important to protect the school's rich history.
"These halls are living and breathing daily," she told the crowd, which included NSCAD president Daniel O'Brien and Mayor Mike Savage. "For this monumental past, we must make sure NSCAD moves forward."
According to O'Brien, the money comes at just the right time, as NSCAD recovers from years of financial turbulence which he says had "seeped away" confidence in the institution.
"It's a wonderful confidence builder to attract this level of support," O'Brien says. "For the immediate future, mid-term future, we're going to stay put here. We're going to stay here. But the consequence of staying here means we have to make some investments in maintaining the property."
Previously, a heavy debt and a $2.4-million deficit (which the province stepped in to cover in 2011) raised fears NSCAD would sell its downtown campus and relocate all activities to its Brunswick Street and Marginal Road facilities. Now, O'Brien says the school's debt sits at $13 million and its deficit is "virtually in control."
While he dissuaded the notion that the money would be directly used to renovate and lease out NSCAD's ground floor retail spaces, O'Brien did point to increasing property values in the Historic Properties and NSCAD's commercial desirability as beneficial for the institution moving forward.
"We are maximizing the surface space that we have and using it to our advantage," he says.
The president also wouldn't rule out the possibility that NSCAD would still look to sell its Brunswick Street campus. That idea had been floated earlier in the spring as a quick cash grab for the beleaguered university.
"We're going to hold all our assets right now, but we haven't removed from the table the prospect of potentially, eventually selling the Academy building."
In a press release, NSCAD Student Union President Caleb Hung urged his school not to squander the investment, and use the money to improve accessibility at NSCAD, expand its studio space and provide 24-hour access. The Student Union also called out for a restoration of core government funding of the university.
"Naming rights can only be sold once, but government funding provides the long-term financial security our institution so badly needs," Hung says.
O'Brien noted students would be involved in all governance decisions, and mentioned the board is "eager to augment some of the student occupied spaces, the student lounge, the student cafeteria, so those things that would have immediate benefit to students."
Where the rest of the money will go, or how it will be potentially divided between NSCAD's three campuses, is yet to be determined.
"It's a university president's dream to have a gift of this magnitude with such few conditions."