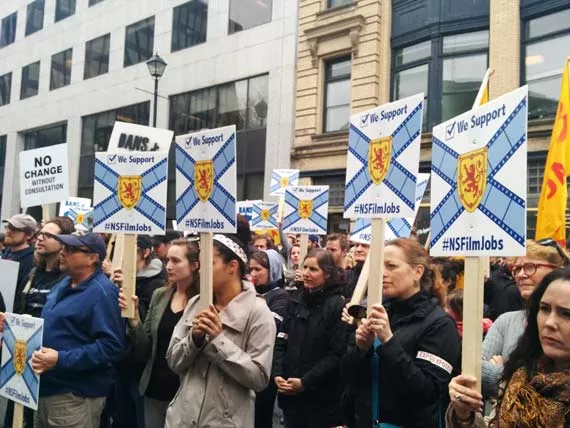 "I think the numbers are difficult to understand," said finance minister Diana Whalen when asked by reporters to confirm figures from the department's press release. "Twenty-five percent of 50 percent, of this, of that."
Over the past several weeks, the Liberals have done a remarkable job of passing a budget with very drastic cuts, all the while confounding the public and making any opposition seem to be a matter of opinion rather than economics. Of these cuts, the one receiving the most backlash has been that to the film industry tax credit. Come July 1, what was once worth $24 million will become a $10 million incentive fund, with $4 million for digital animation.
Since the initial cryptic announcement in early April that changes were coming, reporting on the issue has been all over the map. All Stephen McNeil and Diana Whalen have had to do is throw out some vague statements and contradicting figures and watch the opinions fly. We've heard off-the-cuff remarks from Marco Navarro-Génie, CEO of a right-wing think-tank, and from billionaire public-fund leech John Risley, who support the cuts. Even a recent report from CTV claimed to have uncovered new information about inequality in the tax credit distribution, but amounted to only a few misleading infographics.
Screen Nova Scotia has tried its best to provide lucid arguments, creating a series of animated educational videos, releasing point-by-point rebuttals of the finance department's statements, and writing an open letter to Nova Scotia's MLAs in advance of the Financial Measures Act vote. Despite these efforts, the cut is now a done deal. What this means for the film industry going forward is still unclear, particularly since the implementation date of the new fund is mere weeks away with many details yet to be ironed out.
"This date is unreasonable, unrealistic, and is causing havoc in the industry," says Screen Nova Scotia. "Projects have been put on hold. Some have been cancelled. No one can restructure an entire industry on such short notice. It's not that it's difficult. It's impossible."
The one thing the film industry and the government appear to agree on is the lack of cohesive data to justify the cuts. "There's a simple way to fix this," said McNeil. "Show the production and show the cost. Show who's earning what. Show where the money is being spent."
Scott Simpson of Screen Nova Scotia says all this data is submitted to the government when film budgets are being approved. McNeil insists: "We're saying to the industry: you tell us if we're wrong." In an attempt to do just that, a study is now being commissioned from PricewaterhouseCoopers. The government has shown no interest in waiting for the results of the study, however.
Those involved in productions that have been postponed or called off are remaining tight-lipped, but Screen Nova Scotia is "working on a comprehensive list of productions that we can say in all certainty have been lost for this 2015 production season.
"Our work does not end here," as the organization works "diligently to rebuild critical programs and institutions our industry relies on. And pressure on the government to fix their mistakes will continue as well."