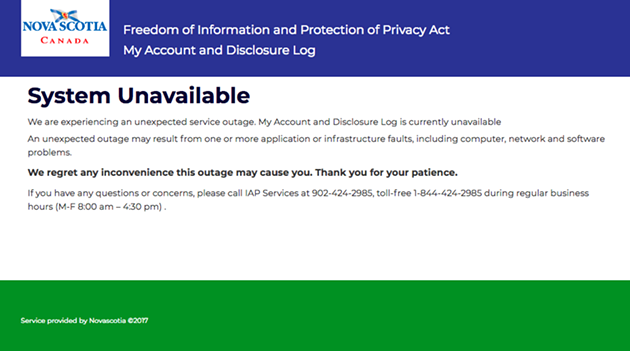 Nova Scotians filing a Freedom of Information request will have to do so with pen and paper for the foreseeable future.
The province's defective
Access to Information portal
is still offline, and provincial spokesperson Brian Taylor says there's no estimate of when the site will be back up and running.
The page was taken down more than two weeks ago after government officials
stumbled across a security flaw
that had allowed a Halifax teenager to download 7,000 documents containing personal information on hundreds of Nova Scotians.
It was a simple error in
code
, but it's become a costly problem to fix.
"The system will be going through several levels of testing and validation," writes Taylor in an email to The Coast. "There is currently no set timeline attached to the service going back online for the public, as this will depend on the results of this process."
Service provider Unisys
received the first patch from its programmers to fix the flaw last Friday, says Taylor. The contractor was busy testing that patch all this week.
When Unisys is finished, the fix will be released to the province for its own testing and an additional third-party review.
Meanwhile, the 19-year-old at the centre of the security breach continues to
garner support
after 15 police officers
swarmed his parent's home
, confiscated their electronics and charged him with "unauthorized use of a computer."
The accused—whose identity has still not been released—has secured legal representation from McInnes Cooper lawyer and privacy advocate David
Fraser,
reports CBC
.
Fraser
tells reporter Jack Julian
he's "optimistic" the case can be resolved before any more damage is done to the young man's life.
The fallout from what
many have dubbed an overreaction
by the province has only increased as the story
reaches international audiences
.
A GoFundMe page has been set up by IT security expert Dragos Ruiu
to help fund the teenager's legal fees
. As of Friday afternoon, it's already raised over $10,000 towards a $50,000 goal.
San Francisco-based Electronic Frontier Foundation is also
now demanding Nova Scotia drop the charges
, calling it beyond absurd to arrest someone for downloading records available to anybody with an internet connection.
"If anyone is to blame for this mess, it's Nova Scotia officials," the digital rights non-profit says
in a statement
.
"The fact that the government was publishing documents that contained sensitive data in a public website without any passwords or access controls demonstrates their own failure to protect the private information of individuals."
Taylor couldn't offer a ballpark on whether it would be days, weeks or months before Nova Scotia's Access to Information site is back online, but it's likely the province will want to take its time. Better to go slow now and ensure there are no other digital security issues than rush things and risk another embarrassing blunder to the government's reputation.
Also in the news today, Nova Scotia Business Inc.'s
website is down
after officials found it was redirecting visitors to porn.