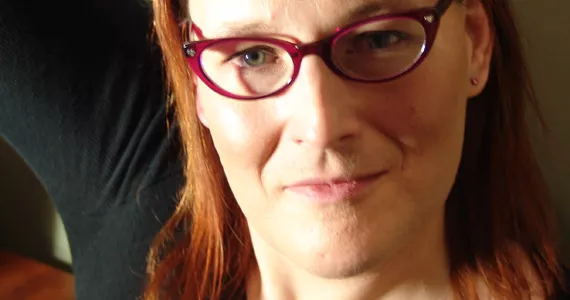 Jainey Lee Bresson is a woman with a trans medical history. Last year, in the midst of her transition from male to female, she applied for her name to be changed, and for the correct designation of her gender to be shown on her government-issued ID.
Two months later, she was issued a birth certificate with her new name. The sex marker, however, still indicated that she was a male.
Bresson's application was refused because Nova Scotia requires transexual people to prove they've had sex reassignment surgery (SRS) in order to change the sex on their government documents. This requirement has been condemned by the World Health Organization and over half a dozen United Nations groups, and unequivocally labelled as "torture" in a recent UN report.
"Somebody had to step up and start the process of challenging this. I realized that that person had to be me," says Bresson. On June 16, she filed a human rights complaint with the Nova Scotia Human Rights Commission. In her statement, she deplored that because her sex marker didn't match her appearance, she faced greater scrutiny and could even be arrested for using the woman's restroom.
In early September, her human rights agent, Shannon Tarr, met with lawyers from the Department of Justice and the Department of Vital Statistics. Tarr says she left the meeting with a promise that the matter would be brought to the House in December or January and passed by the spring of 2015. Bresson and her agent agreed to put the human rights complaint on hold until then. Last week, as promised, the government announced its plan to bring in legislation next spring and possibly drop the SRS requirement.
Bresson says she wishes the government would have acted sooner. In September, she received a letter from Minister of Justice Lena Metlege Diab informing her that a nation-wide Vital Statistics Act was currently in the works, and that sex designation on birth certificates was the first and current topic researched. "Basically, they were perfectly happy with waiting for the national change to come out, but the fact is that my complaint forced the issue locally in the province. They had to either act or face the human rights tribunal," she says.
Human rights complaints have already prompted Ontario, Alberta and Manitoba to amend their Vital Statistics Acts. In each case, the human rights tribunals ruled that the surgery requirement for a sex marker change violated the rights of transgender people.
Tracy Barron, media relations advisor for Services Nova Scotia, says the government has been looking into the issue for over a year.
"We have met with the Nova Scotia Human Rights Commission on this issue," she says, but denies that the government's decision was prompted by Bresson's human rights complaints.
Kate Shewan, Chair of the Nova Scotia Rainbow Action Project (NSRAP), says the push for the ability to change gender markers on ID documents has been a community effort.
She believes however that the government should take it a step further and allow people to remove gender markers from their identification. "For anybody who is gender neutral, non-binary or gender fluid, the ability to change their sex marker from male to female or female to male doesn't really help," she explains.
Shewan is not optimistic that this particular change will be brought forward by the government anytime soon. "This is something that hasn't happened in other provinces, and Nova Scotia unfortunately tends to be a follower and not a leader in these things," she adds.
Jainey Lee Bresson says her human rights agent will continue to be in contact with the minister's office to make sure the issue doesn't get back-burned.
"My school, bank, insurance company, literally everybody I deal with has updated my ID except for the government. It about time."