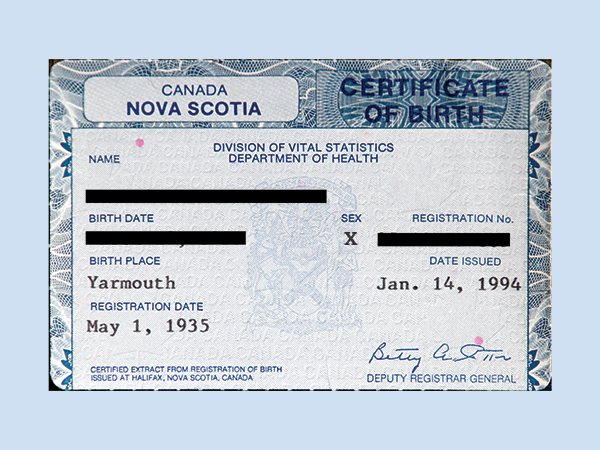 Nova Scotian residents and born applicants can now obtain a new birth certificate or drivers license displaying M, F or X, as well as have the option not to have displayed at all.
As of July 9, these changes include the sex indicator X, which will be available for individuals who do not identify exclusively as male or female. Anyone can apply to have their sex indicator changed to M, F or X.
This comes after consultations with transgender community members who had their sex misidentified at birth. Krista Dewey, deputy registrar general for vital statistics with the department of health at the province, says this change is important because identity documents such as birth certificates are a space which people can see their gender identity affirmed, or where they can see their gender identity misidentified or erased.
According to Dewey, these changes have been in the works since 2015. This was shortly after regulations for transgender Nova Scotians to correct their birth certificates were eased to no longer requiring have a surgery or hormone therapy requirement.
"We had participants who shared anecdotes with us about disturbing experiences that they have had when asked to present a piece of ID, where they've been asked invasive questions, or had been judged or even had violence perpetrated against them," Dewey says. "The option to have a gender marker that aligns with one's gender identity is a way to better ensure the dignity and safety of some of our most marginalized community members."
Dewey says this change also acknowledges gender is a spectrum and not a static binary. Both long- and short-form birth certificates plus drivers licenses will now have the option to have no sex indicator displayed, available to anyone born in Nova Scotia, whether they have changed their sex indicator or not.
In consultations, it was expressed by community members that including an X option but not an option to remove the marker could open the ID holder to discrimination. The X would act as a signifier that the owner of the certificate is a member of a marginalized community.
Community members also raised concerns with the RCMP's current requirement for fingerprints before someone can legally change a name. Dewey says while this still exists for names, it will not be a requirement for gender markers: "That doesn't exist today, and it will not exist as part of our new process."
Applicants 16 and older will need to make a statutory declaration to state their preferred sex indicator change. Applicants 15 and younger will still need to provide a written statement from a physician or psychologist. Dewey says this is to show that person understands what they are declaring.
"When we established this process," she says, "we needed to make sure the person who is making the application needs to understand what they are applying for."
X cannot be selected for a child at the time of their birth. Non-Nova Scotia-born applicants will receive a certificate of change displaying their updated sex indicator. They must have resided in the province for at least three months to be eligible.
There is no fee to correct your sex indicator with the province.
Dewey says this change arose from consultations with the community: It was expressed that the burden to correct a birth certificate and have it accurately show a person's sex should not be on the person seeking to correct it. It was also expressed that fees were a difficulty for a population who already faces employment discrimination.
———
Jessica Durling was a part of these consultations and led a petition to ease the requirements in 2015.